Fish virus found in Kootenay Lake Kokanee calls for action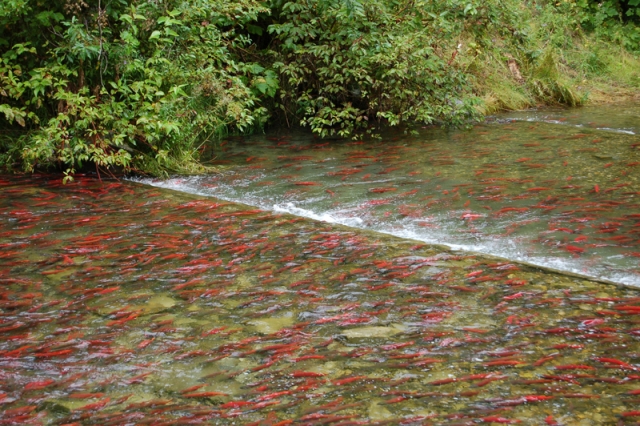 A fatal fish virus has been detected in the Kootenay Lake Kokanee raised in the Meadow Creek and Redfish spawning channels.
Infectious hematopoietic necrosis virus (IHNv) was found in 80 percent of spawning Kokanee in a routine check of the fish coming from the Meadow Creek spawning channel last fall.
The virus has also been detected in spawners in the Redfish Creek spawning channel.
"It turned up for the first time this fall," said senior fisheries biologist Jeff Burrows with the Ministry of Forest Lands and Resource Operations (FLNRO). "It's not a problem in the wild, but it can spread where there's a high density of fish such as spawning channels."
Fry and spawners are most vulnerable to the virus because their immune systems are weaker than adult fish, said Burrows. As fish mature, they become resistant to the disease until they become spawners.
So far, the virus is isolated to Kootenay Lake.
Believed to be spread by coming in contact with other infected fish or their feces, in this case the virus is  "transmitted horizontally," said Burrows, which means it is not passed on from parent to offspring, but rather spawner touching spawner.
It is thought the virus gains entry at the base of the fins and gills, and affects the internal organs so that it is not discernable in most fish.
IHNv is commonly found in Pacific Coast salmonids, affecting salmon, trout and sturgeon as well. The first reported epidemics of IHNv occurred in the United States at the Washington and the Oregon fish hatcheries during the 1950s.
This outbreak may also have an effect on the Gerrard Rainbow, who feed solely on Kokanee. Burrows said it appears that the predator/prey relationship between the two is already out of balance.
"We have had an abundant predator population, while the Kokanee run was low at Meadow Creek this year," Burrows said.
"This is a food web dynamic," he added. "The Gerrard may have eaten themselves out of house and home."
In fact, size is down among the Gerrard, said Kerry Reed with Reel Adventure Charters.
"Basically they don't have enough food. We're not getting the big fish at 18-24 pounds that we used to get. This year a big fish was 13-15 pounds."
This was the first time Reed had heard of the virus, but he had suspected something was going on.
"The fish are skinny," he said.
Kokanee spawners in Meadow Creek fell from roughly 760,000 in 2012, to 200,000, in 2013, but numbers rose in Redfish and Kokanee Creeks from 4,000 to 19,000 and 13,000 to 20,000 respectively.
Gerrard spawners, on the other hand, were above normal in 2013 at roughly 2,300 fish.
The trout are potentially at risk, Burrows said. "We don't know if any are infected, but we plan to test them this spring, when the spawners are at Gerrard. We will capture some to collect ovarian fluid samples for testing.
"And the fact remains, the virus can kill immune system depressed fish, but may not actually be killing fish. For example, the Meadow Kokanee spawners spawned quite successfully before dying, which they do anyways after spawning, sick or not."
At this point there is no explanation as to why the virus showed up at Meadow Creek. It is believed to be recently introduced since it has not shown up before, Burrows said. 
FLNRO is taking immediate steps to prevent the spread of the virus. This calls for draining the channels as drying kills the virus, flushing the channels with more water to clean the gravel, and removing any carcasses, Burrows said.
The virus does not affect humans or other mammals feeding on the fish.