City clears Mill Street ravine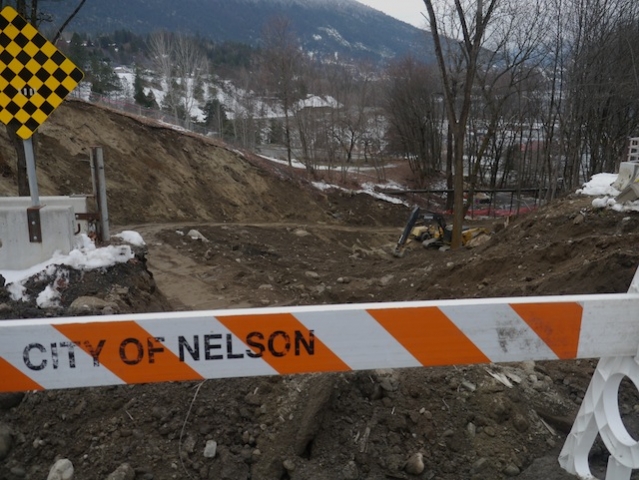 The City of Nelson has recently done major excavations in the wooded ravine at the west end of Mill St. to repair storm sewers. In the process, work crews removed many trees from city land and crown land so the soil beneath them could be removed and used as fill.
On January 23, the city published a notice to residents of the area, explaining the work its crews had done in the previous weeks.
The notice explains that in 2012 a storm sewer broke, causing a minor landslide into the ravine. That section of the storm sewer crossed the property at 309 Mill Street, and repair work was done at that time. In 2013 another section of the pipe collapsed. The city decided to construct a new section of storm sewer, this time not routed through the 309 Mill St. property.
The city's notice goes on to say:
The realignment of the pipe required considerable amounts of fill and it seemed prudent to use good quality fill adjacent to the proposed new pipe development. Excavating into the hillside required the removal of several young trees on the embankment and several old trees that overhung the excavation were removed for safety. As well, at the request of the owner of 309 Mill St., the city is removing material that sloughed onto that property during the 2012 washout and is replacing it with fill from the embankment on the south side of the work site. The work on private property also required removal of several trees.
A spokesperson for the city told The Nelson Daily the trees were removed because the city wanted to use the fill that was beneath them, rather than trucking fill from elsewhere.
The city's notice goes on to state that there is no plan for the use of the crown-owned lots on the south side of the site, that the site is too steep to extend Mill St. into it, and that the area will be replanted with native species of trees and other vegetation.
A large sewer main raised on a trestle passes through the bottom end of the ravine (see photo gallery below). The city plans to eventually fill in the ravine to a level higher than the sewer main.
Click on the images below to enlarge them.