CUPE issues ultimatum to province should planned talks in Vancouver go south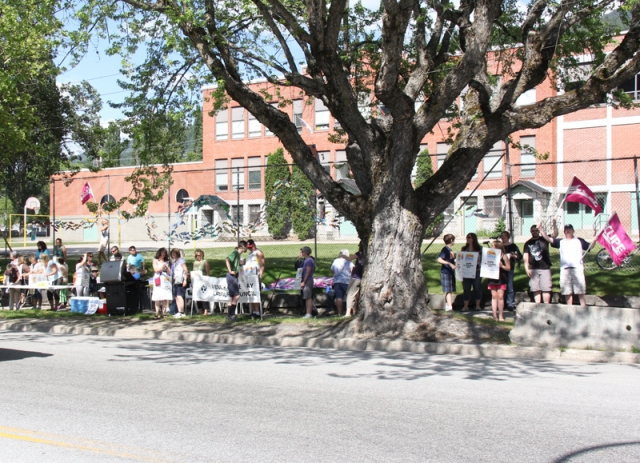 Parents of school-aged kids can relax somewhat knowing the first day of school Tuesday will come and go like many in the past.
The optimism comes after Canadian Union of Public Employees and provincial government plan to resume talks on a new deal in Vancouver, beginning next week.
Three days of bargaining has been scheduled between the CUPE Provincial committee and Peter Cameron, the lead negotiator for the province.
However, according to Kootenay rep at the CUPE bargaining table Cheryl MacLeod of Castlegar, parents may want to consider a back up plan should talks grind to a halt.
"We have active strike votes in 55 out of 57 locals in the province and represent 27,000 CUPE members and if those three days of talks don't get us what it is we think we deserve we're going to be out by the middle of September," MacLeod told The Nelson Daily.
MacLeod said the union, which represents education assistants, clerks, trades workers, bus drivers and other staff across the province, have made every effort to be fair and reasonable with the province.
In June, having been without a contract for more than a year, the union stages information pickets, including the CUPE Local 748 march outside Hume School, to make the public aware of there plight instead of instituting job action during the end of the school year.
Talks between the two sides stalled in early August, which CUPE blames on what it calls the government's lack of preparation.
"It was very clear after being there for an hour that the government didn't have a savings plan or the ability to give us any money," MacLeod explained after wasting time earlier this month.
"I don't' know if frustrating even comes close to what it felt like to have been called all the way down there and then to know that Peter Cameron, who has been made the administrator of BCTA (BC School Trustees Association) really didn't have a savings plan or the ability to give us any kind of a wage adjustment," MacLeod added.
Kootenay Lake Superintendent Jeff Jones is happy to see the two sides returning to the bargaining table the first week of September.
"I'm very pleased to know that they're planning to be in talks again," said Kootenay Lake Superintendent Jeff Jones.
"It's really important how much we value our CUPE staff members and the work they do. We want them to be able to negotiate a fair deal and we're hoping that will happen at bargaining next week."
Talks begin Wednesday, September 4 and run through Friday.
CUPE locals serve School Boards across the province and have been without a contact since June 30, 2012 with bargaining commencing in the fall of 2012.
Locally, Nelson CUPE Local 748 president Michelle Bennett said wage increases and seniority at the local level are the two key issues in negotiations.
"Nobody in our local wants to do this," Bennett said. "I don't think anybody provincially wants to go out. We don't want to do it but there comes a point where we have to do it."
"Our members will take full-scale job action if the government doesn't show a commitment to bargaining," Colin Pawson, Chair of the BC K-12 Presidents' Council, said in a news release CUPE issued on Sunday.
"They're frustrated that we've had three false starts to negotiating, and the clock is ticking," he said.
If CUPE is pushed to strike, it is believed the teachers would honour the picket lines resulting in a full-scale closure of schools.
"We're hoping for the best, but planning for the worst," said Jones.