Mount Sentinel Valedictorian Address — Be yourself no matter what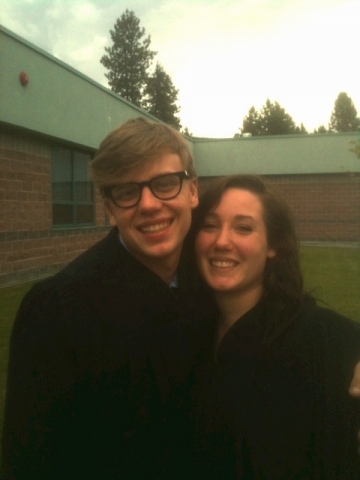 When Reanna Donald and Eddie Podovelnikoff stepped to the podium during the Mount Sentinel Graduation Ceremonies, the crowd began to stir.
Both Donald and Podovelnikoff could feel a bit of tension, so both began to chime into a three-minute-plus comedy sketch about their time at the South Slocan high school.
The sketch quickly relaxed the gymnasium full of students, parents and friends before the two valedictorians got down to the serious stuff which The Nelson Daily wanted to publish.
We came into Mount Sentinel hoping to become fierce and ferocious wildcats, but the truth of the matter is we strayed far from the beaten path and each found our own way.
Out of the 68 graduates who stand before you only one is a senior volleyball player, and only one is a persevering drama student.
The grad class would like to thank you two for sticking with it, because without you guys they would have thrown us out and locked the doors. 
Let me tell you there's not much you can do with a highway, a bank and a fresh fruit market. Jake, don't get any ideas. 
We spent our days at Mount Sentinel screaming, flailing around, and saying things we shouldn't have.
All of which lead us a seat in the office waiting for Mr. Campbell, Mr. Leathwood or Mr. D'Andrea to point the finger of shame at us. But most of all we spent our time here laughing.
I believe I speak for everyone when I say that some of my most precious and memorable moments were in this asylum.
It's crazy that these six years have gone by so quickly, and that now we are the Senior Wildcats. I don't think we are tall enough, good looking enough, or mature enough to be thrown into the jungle.
We may not look like it but we are still those little screaming grade sevens, only now we have cars, responsibilities, and no teachers to keep us in line. But at the end of the day these kids are our future nurses, teachers, pilots, and late night seven 11 workers. 
To the junior students of mount sentinel: Don't be afraid to step outside of your comfort zone, challenge the system and be an individual.
This is the perfect time for it. If there is anything we've learned from the past couple of years its that Mount Sentinel will support you no matter who you are or who you choose to be.
Party hard, kiss everyone, sneak out, learn your own lessons, and last but not least I don't care how many times they are removed, you are still related.