15th Dance Umbrella Spring Showcase marks end of an era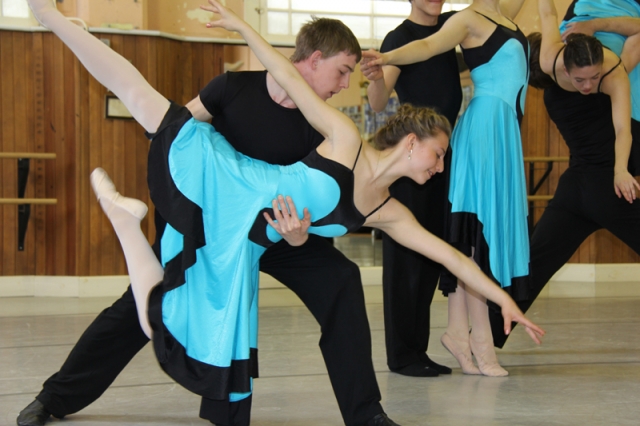 The Dance Umbrella studio was overflowing with excitement as the senior performers quickly slipped on apparel for the annual media photo shoot.
However, there was a hint of bitter sweetness in the air of the Civic Centre based facility.
For some of the dancers this would be there final photo shoot.
The final opportunity to pose for pictures while sharing a few laughs as the cameras flashed.
And this also would be the final chance to showcase their skills at performers combined a season of work into the 15th Annual Dance Umbrella Spring Showcase.
Ya, I'm a little emotional . . . I'm heartbroken, actually," Dance Umbrella instructor Sabbian Clover told The Nelson Daily before the photo shoot, less than a week before opening night, Thursday at 7 p.m. in the Capitol Theatre.
"I think they're an extraordinary, committed, dedicated group," Clover adds. "They're hard working. They spend 10-hours every weekends here at the studio.
"So they're really an exceptional bunch of kids. You just don't find kids like this every day."
Clover has been at the helm of the Dance Umbrella for years.
During the that time the lead choreographer has seen the likes of Hannah Ockenden, Dana Dickenson, Aja Lamb-Hartley, Elsa Neufeld-Cumming and Emma Collinson — the latter starting at the tender age of three years — mature to fine young dancers.
However, this week marks the final time the Fab Five will dance together as they prepare to go their separate ways.
"I'm probably going to cry, a lot," admitted Elsa Neufeld-Cumming, still waiting for confirmation from schools in San Francisco and New York.
"This is the end of an era for me. Dance in this town has always played a big role for me.
"But now I'm moving on to more exciting times and I'm really excited to take my career to the next step."
The Dance Umbrella 15th Spring Showcase goes Thursday, Friday and Saturday at 7 p.m.
There is also a matinee Saturday at 2 p.m.
Tickets are $11.
The public can expect an exceptional show says Clover, with the more than 200 dancers from age three and up performing a varied program of hip-hop, ballet, point work, a little modern jazz along with a little tango flare here and there.
"We work all year on this show," Clover explained.
"Not only is it a lot of work with the choreography and costume but the (dancers) bodies have to be trained. So there's two elements. There's putting on the show but then there's the day to day grind of developing their techniques so they can do it."
Clover was silent on the finale piece featuring the senior dancers, but had to admit it promises to be very special.
Neufeld-Cumming didn't want to give it away either but knows it will be special.
"Hopefully the emotions will channel into our dancing in the best way possible," she said. "I honestly try not to think about it because it's too hard to bring it up. I just know we'll pull it together."
For Collinson, the longest serving member of the Fab Five, she knows there will be a few tears.
"Yup, a few tears . . . but those tears will be happy tears."