There's a Buzz About Khaos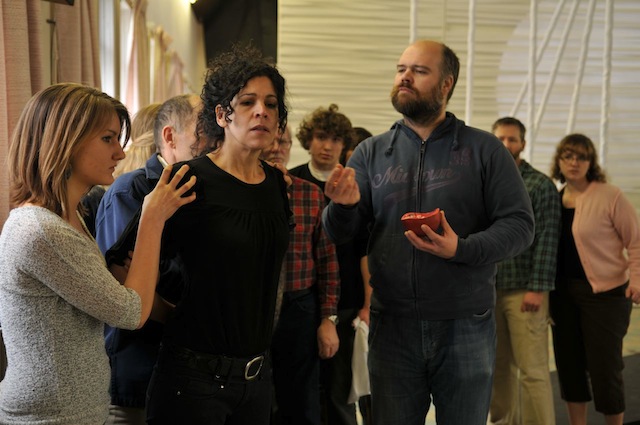 The Globe and Mail and Opera Canada will be covering the March 8 premiere of KHAOS: The Opera at the Capitol Theatre. So will three different CBC radio programs in Calgary, Vancouver and Kelowna.
Why?  Because the word is out: KHAOS is a professional calibre opera, commissioned, composed, produced, and performed by West Kootenay people.
"To have an Opera Canada reviewer come to Nelson to report on the premiere first hand is probably the most important coverage a new Canadian opera could hope for," said Marty Horswill, KHAOS producer.  "It is also a huge vote of confidence in what our composer, Don Macdonald, and our librettist, Nicola Harwood, have created." 
World class and humbling
Another vote of confidence comes from the operatic baritone Kevin Armstrong. He plays the role of Cerberus, the gatekeeper to the Underworld. Armstrong lived in the Kootenays years ago but for the past ten years has been singing opera and musical theatre in Germany and elsewhere in Europe. He's moving back here, and KHAOS is his first local project. He is a powerful and experienced singer. 
"I think that what Don and Nicola have put together here is at a world class level," says Armstrong. "Having done quite a few premieres before, I think it is certainly one of the best, if not the best, that I have worked on. The fact that we are using 100 percent talent out of the Kootenays is even more spectacular. Having just come back here after having been gone for ten years and seeing the level they are working at, it is quite humbling."
An ancient and modern story
The Nelson writer and dramatist Harwood has created a story both ancient and modern. It's the Greek myth of Persephone and Demeter, but in this updated version, climate change provides a metaphorical overlay.
In the ancient myth, Persephone, daughter of Demeter, goddess of the harvest, is abducted by Hades and taken to the world of the dead, where she becomes queen. The story is Demeter's dramatic struggle to get her daughter back, and eventually a deal is made where Persephone spends half the year in the underworld (causing winter in our world) and half of it re-united with her mother (allowing vegetation to grow again).
In the mythological present
Harwood says the story takes place in the "mythological present." It uses contemporary English, but not colloquial language because "when you are writing for Gods, its pretty hard to hand them pedestrian language." She says the language is heightened and poetic, contributing to the atmosphere of a "grand world". 
Rich, complex, accessible
As for the music, composer Don Macdonald says it sounds like neither traditional nor modern opera. "I wanted to paint each scene with a musical language that I thought was appropriate to the scene. In some moments you may hear something that sounds slightly reminiscent of Debussy, and at other moments slightly like John Cage. I decided to be not scared of not being too contemporary."
"We made a decision," says Harwood, "that because this is coming out of a small community and created for a small community that it needs to be accessible. We didn't want to be so disconnected from the source of the support we were given to do this project that we would come back with something people felt alienated from. I think Don has created a really rich, complex, and accessible score."
The cast
In addition to Kevin Armstrong, the cast consists of Audrey Bissett as Demeter, Allison Girvan as Persephone, Roger Lay as Hades, Kathleen Neudorf as Adrianna, Bessie Wapp as Hekate, and Christoph Martens as Helios. They are supported by a 20-voice chorus, a digital orchestra, and solo dancer Hiromoto Ida.
The stage and lighting were designed by Sharon Huizinga, Thomas Loh, and Lara Blackman.
KHAOS runs March 8 through 10 with a matinee performance on Saturday. Tickets are available at the Capitol Theatre Box Office. For more information go to http://www.khaosopera.com.
Bottom right photo below: Producer Marty Horswill, Writer Nicola Harwood, Composer Don Macdonald.