KHAOS: Local Opera Exceeds Wildest Expectations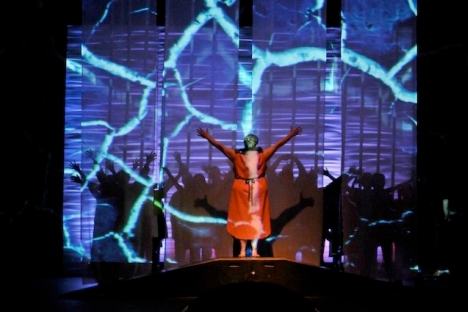 KHAOS Opera sold out four of five shows at the Capitol Theatre this past weekend. That's nearly 20% of the population of Nelson. "The public response to KHAOS has exceeded our wildest expectations," said KHAOS producer Marty Horswill. 
KHAOS also caught the attention of outside media, including the Globe and Mail, Shaw TV, Opera Canada magazine, and three different shows on CBC radio.  
The production was commissioned, composed, produced, and performed entirely by residents of the West Kootenay.
Writer Nicola Harwood and composer Don Macdonald wrote KHAOS over the past three years in Nelson. It's an updated version of the Greek myth of Persephone and Demeter. Because that story is about the seasons and fertility, the climate change theme introduced by writer Harwood was a natural fit. 
I am not qualified to review an opera performance, but Hilary Clark is.  She's a reviewer for Opera Canada magazine. She came from Vancouver to attend KHAOS for three performances, and I interviewed her after. Her general impression of the opera? "It was spectacular, brilliantly done, and the music was extremely exciting," she told me. I'll be giving more of her comments below.
On opening night, the cast of KHAOS (six leads and twenty chorus members) entered the Capitol stage confident and ready. I was gripped from the first moment by formidable singers, a poetic script, compelling music, a beautiful set, stunning lighting, and an ancient/modern story that just kept on driving relentlessly forward.
The music: "a fantastic shimmer"
Reviewer Hilary Clark:  I was struck first by the music, the chord structure. It was powerful. There is a fantastic shimmer to the music. It is a very difficult score, extremely complicated, and the chord structure is where you get that extreme sense of riveting immediacy. It was 21st century music, making a real statement that went with the theme of the opera. The music is approachable, which was good fortune for those of us in the audience. He was definitely stimulated by the excellent libretto by Nicola Harwood. The music was extremely exciting and fitted with the world desperation at the end when everything comes crashing down.
The music was performed by a digital orchestra, "conducted" by Macdonald as he directed the singers. 
Demeter: "riveting"
Audrey Bissett is a classical singer who lives in Trail and teaches singing throughout the region. Her character, Demeter, is the Greek Goddess of the Grain. The fertility of the earth depends on her.  Her love for her daughter Persephone completely consumes her, as does her rage when Hades, the God of the Underworld, abducts Persephone. 
Hilary Clark: Demeter was riveting, absolutely amazing.  Audrey Bissett has a very, very beautiful voice.
The story: morphing from ancient Greece to the 21st century
While Persephone is in the Underworld, having become Hades' wife, Demeter is so distraught that she takes it out on the people of the world by withholding the rain. Crops die and people suffer because of greed—the greed of the Underworld which in this version of the myth is an industrial world where Hades and his gate-keeper Cerberus don't mind destroying the world for profit. There is no actual mention of global warming or climate change in the opera, but there is an obvious metaphorical overlay.  
Hilary Clark: It was an exquisite libretto. Nicola Harwood did a wonderful job of it. I loved the fact they used the Persephone myth, that was a great place to start, and continued it into the 21st century. By tying up Persephone and forbidding her to go back to Demeter, it meant there was going to be no spring or summer ever again, and that just hit me, and what a metaphor. They morphed from the myth into the 21century and I thought that was amazingly clever.
Cerberus: "a Mack truck and a Mercedes"
Kevin Armstrong plays Cerberus, a truly intimidating character who enforces Hades' rule in the Underworld and who is the gatekeeper to that world. He's Persephone's kidnapper, and a ruthless businessman. While all other characters in the opera are clad in costumes inspired by ancient Greece, Cerberus wears a business suit. 
Hilary Clark: Kevin Armstrong, what a powerful baritone, he was excellent. He looked like the mafia—that was really strong.
Armstrong, originally from Nelson, has been singing opera and musical theatre in Europe for ten years. Last year he decided to move back to Nelson and arrived here as Macdonald and Harwood were starting to cast KHAOS. What luck. Armstrong's imposing stature and powerful baritone make Cerberus a terrifying presence. "He has a voice somewhere between a Mack truck and a Mercedes," says composer Don Macdonald.
Persephone: torn between the worlds
Persephone, the kidnapped daughter of Demeter who marries Hades, is played by Allison Girvan, a singer who can do opera, jazz, or world music. This is the first time I have seen her as an actor, and I was convinced by everything she did. Persephone is an intensely conflicted woman because two opposing worlds—the worlds of the living and dead—crave her presence and depend on it.  Allison wore that emotional turmoil, and her love for her mother and husband, on her face and expressed them in every gesture. It was very moving.
Without Marty Horswill, no Khaos
"I can't say enough about what Marty Horswill has done," says composer Don Macdonald. "It would not exist, this opera, if not for him. Marty said, 'Lets do an opera. You two guys are going to do it, and I'm going to find the money, and we are going to tour, and we are going to find the right people, and I am going to bring as many people to the table as needed to get this work out there.' And he has done exactly that, true to his word right from the first."
"The community of Nelson," says Marty Horswill, "and we are not talking businesses here, we are talking individuals, out of their own pocket, have contributed more than half of the $120,000 that we raised (before ticket sales). I did the math for a town of our size. That amount of money is the equivalent of the citizens of Toronto, not the corporations but the citizens, donating 12.5 million dollars to an opera commission."
The supporting cast
Hades, despite being the God of the Dead, is a fairly sympathetic character played by Roger Ley. His tragic marriage to  Persephone is dramatic and romantic.
Christoph Martens plays Helios the Sun God and Kathleen Neudorf is Adrianna, Persephone's close friend from childhood. Bessie Wapp brings clear authority to the role of Hekate, who eventually brokers a deal that sees Persephone agree to spend six months in the Underworld and six months in our world, hence the seasons, the cycle of light and dark, and the coming and going of crops and vegetation.
Hilary Clark: Kathleen Neudorf, Bessie Wapp and Christoph Martens did very good supportive roles, played their parts extremely well, and they were very convincing. Roger Ley is obviously from a musical theatre background and that worked very well.
The chorus: 20 singers, one entity
The chorus of 20 singers are crowds of people in both worlds and they offer commentary on the story as it progresses. The group ranges in age from 17 to about 70. The first night I saw the production they were 20 singers. On the third night when I went back, they had become a single entity, especially powerful in a final scene where the inhabitants of the Underworld mutiny against Hades and trap Persephone in the underworld forever, destroying the seasons. Yes, it's a dark ending.
Stage and lighting: profound simplicity
The stage was designed with characteristic profound simplicity by dancer and architect Thomas Loh. The lighting was by Sharon Huizinga, who has spent time in the past few years doing lighting for the likes of Diana Krall and Cirque du Soleil. KHAOS was a very satisfying visual experience.
Hilary Clark: You don't need a lot of stuff on the stage, but you need decent lighting, a bit of imagination, and the music carries the show. It doesn't have to look like the Phantom of the Opera. Thomas Loh's design was very, very good. And the lighting design, I thought it was amazing, particularly the scene with the fire. It was very moving. 
Nelson's current official Cultural Ambassador Hiromoto Ida performed a dance that stopped us in our emotional tracks part-way through. He took on the job of personifying, in one short piece of choreography, the suffering and dying of humanity. 
KHAOS will travel to the Key City Theatre in Cranbrook for a March 17 performance, and will go to Creston, Grand Forks and Trail in May.
Photos in the gallery below are by Julie Castonguay.