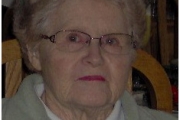 Vivian Iris Perrier  
December 4, 1930 – January 12, 2015
It is with great sadness that the family announces Vivian passed away peacefully at Jubilee Manor.
Vivian was born in Innisvail Alberta and moved to Nelson at age 16, where she met Joseph Perrier and they married on June 23rd 1953. After 61 years of a loving marriage, Joe mourns the loss of his dear wife.  Vivian is also survived by her 5 children, 8 grandchildren and 4 great grandchildren. Bryan (Gloria), Chris (Amanda) & Justin; Dianne, Peter (Sue) Mikaela & Kona, Braden (Laura) Kai & Teo; Carol (Rob) Samantha & Matthew; Brad (Dee) and Ken (Andrea) Connor & Will. She was predeceased by three brothers, Gordon, John and Clifford MacGillivray. Vivian is also survived by two sister-in-laws, Cecilia MacGillivray of Surrey BC and Lil MacGillivray of Prince George BC as well as many nieces and nephews.
Vivian was a great skater; she met Joe on the rink during a touch tag ball game, where they skated together 5 times. Joe was hooked. He didn't see her again for 3 years due to work commitments. When he returned to Nelson Vivian was the first person he saw on the street. They married the following June.
Vivian was an ardent square dancer with the Nelson club for 32 years and was always travelling to jamborees throughout BC, Alberta and the northern United Stated. She was a kind and gentle soul with a lovely smile who loved to spend time with her children and especially her grandchildren. Vivian loved people; was lively, gracious and always fun to be around.
The family would like to extend a special thank you to the staff of Jubilee Manor for the kind and compassionate care they provided to Vivian during the 5 years she resided there.
A celebration of life will be held in April 18th, 2015, 11:00 AM, at the United Church, 602 Silica St, Nelson, BC.
Online condolences may be expressed at www.thompsonfs.ca
Funeral arrangements are under the direction of Thompson Funeral Service Ltd.