Simmonds, Douglas Gloeckner
(May 3rd, 2020)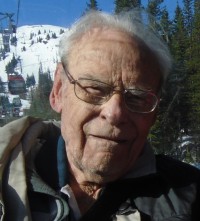 It is with sadness that we announce the passing of Douglas Gloeckner Simmonds on April 19, 2020 in Nelson, BC. Doug was born on a small farm near Semans, SK on October 16, 1927. He joined the RCMP in 1946 and retired 27 years later. He loved the RCMP; it took him up north to Aklavik, NWT and then down south to High River, AB. This is where he met the love of his life Lorna E. Wright at a singles night at the United Church. They had 65 wonderful years together. After retiring from the RCMP, Doug lived in Edmonton where he took a job with the Bank of Commerce as a fraud investigator.
In retirement, Doug and Lorna would travel around in their camper van wintering in Arizona. In 2014 they moved to Nelson to be closer to their son Wright and grandson Henry. Doug was an active member of the United Church and a practising Mason right up to the end, he was the sitting Worshipful Master of the Nelson Lodge 23, he was highly respected and loved by all.
Doug was predeceased by his wife Lorna E Simmonds, brother Bill Simmonds, sister-in-law Eleanor Blond, brother-in-law's Peter Blond and Stan Wright.
He is survived by son Wright Simmonds, grandson Henry Simmonds, sister Marina, brother-in-law Frank Vettergreen, sister-in-law Helen Simmonds, sister-in-law Miriam Wright, and numerous nieces and nephews.
You are invited to leave a personal message of condolence.