Richards, Greig
(November 29th, 2017)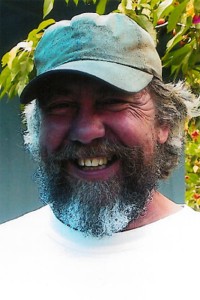 Greig Richards
December 5, 1953 – November 21, 2017
With great sadness and love, we said goodbye to Greig, on November 21st. He took his diagnosis of cancer with grace and courage, and "did it his way," enjoying every moment of every day!
Greig was born in the old Nelson hospital and spent his childhood living on Ridgewood Road, in the house that his Dad built. It was a perfect place to grow up, making lifelong friends, and enjoying the mountains and the lake. In his early teens, the family bought a boat, called the "Little Dipper" and it was the start of Greig's passion for water skiing! A club was formed and he enjoyed so much time on the dock at Nasookin and became one of the best slalom skiers in the area. He also loved exploring the mountains and fishing lakes close by. He was always quick to help his friends with building projects and anything else that might be a challenge or adventure.
In his late teens, he started working with his Dad, as a carpenter and they became quite the team. After Dad retired, Greig just kept on going, and has left a strong legacy all over the Kootenays! His building skills and integrity were highly sought after. He won the Nelson Daily News "Carpenter of the Year Award", several years in a row! The carpentry was generational, superb skills passed on from father to son starting with Dad , then Greig , which were then shared with his son Mike. They also worked side by side for many years.
Greig married Cathy, and they had two children, Bobbie Rae and Michael. They were his pride and joy. Greig built his dream house for his family, on Six Mile Lakes Road. They had many happy years there, and that is also when he became one of the "Chiller's Gang" and so enjoyed that pub and all the wonderful folks there. Greig and Cathy later moved to Castlegar to be closer to the grandchildren.
Left to miss Greig are wife Cathy, daughter Bobbie (Darren), grandchildren, Hayden and Hunter, son Michael, sister Shelley, nieces and nephews, and many lifelong friends.
Greig will be remembered for his great sense of humor, his generosity and his unique personality. He will be forever in our hearts!
A Celebration of Life will be held in the Spring. In memory of Greig, please be kind, compassionate and spread the love.