Piro (Porco), Ines Immacolata
(July 6th, 2021)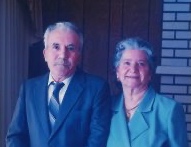 Ines Immacolata Piro was Born in Aprigliano, Cosenza, Italy on November 6, 1931. She passed away peacefully at Kootenay Lake Hospital surrounded by her family on Monday, June 21, 2021.  She leaves behind her son Marcello Piro, daughter Jennifer De Laurentiis, granddaughters Evelina (Evan Mercier) De Laurentiis, Aimee (Robert Leduc) De Laurentiis, great granddaughters Aurella and Gabriella Mercier, and brother Gabriel (Teresa) Porco, along with numerous nieces and nephews.
She was predeceased by her husband Salvatore (2006), her parents Domenico and Fortunata Porco, sisters Elena (Leonardo) Maida and Ada Porco and brother Mario Porco.
Ines immigrated to Canada in 1957 with her mother and youngest sister to join the rest of her family. In 1958, the love of her life, Salvatore,  came to join her where they were later married on October 25, 1958 at the Cathedral of Mary Immaculate in Nelson, BC.
Ines was a very easy-going person and enjoyed spending her days in the company of her family and friends. She lived for her family, especially her granddaughters Evelina and Aimee.   Her gentle-nature made everyone who came to visit her feel welcomed and relaxed in her home. She was quick to offer freshly baked treats and espresso to anyone who entered the door.
She was extremely talented at crocheting and knitting, taking leftover balls of wool, or unraveling old sweaters and turning them into beautiful blankets.
She leaves a legacy of making a difference in the lives of all those who knew her, putting the needs of those she loved above her own.  The memory of her kind smile, generosity, and devotion to her family will forever be cherished, and she will be deeply missed.
The funeral Mass will be celebrated Friday, June 25, 2021 @ 10:30 am at the Cathedral of Mary Immaculate in Nelson, BC with Father Neil Lustado as celebrant.  Entombment will follow at the Nelson Memorial Park Mausoleum.  The funeral will be live-streamed from the Cathedral of Mary Immaculate website: http://catholiccathedralnelson.ca/
The family would like to extend a special thank you to the 3rd floor medical staff of the Kootenay Lake Hospital for the excellent care they provided.  Thank you to our dear extended family members, friends, neighbours and the Trafalgar Middle School staff for your thoughtfulness, kindness, and expressions of sympathy. 
We are eternally grateful.