Noakes, Charles Arthur Chuck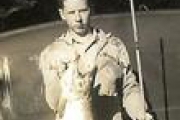 We are sad to share the news of Chuck's passing.  He passed peacefully at home surrounded by family on Tuesday, August 30, 2016.  His sense of humour and dry wit remained intact to the end.  These and his incredible intelligence and memory kept us on our toes or smiling always.  All these will be missed.
Chuck was born Feb 15, 1924, the last of 8 children.  He worked hard on the family farm in Balfour from a young age, eventually taking over the farm in 1947.  He married Evelyn Riehl  in 1948 and they had 5 children together.  He worked a short time on the S.S. Moyie and then the M.V. Anscombe, along with farming duties, but eventually sold the dairy farm before moving into construction work.  He shared his knowledge and expertise in carpentry with many young apprentices. 
He escaped his duties of farming, framing and family to enjoy his passion for hiking, hunting, and most especially fishing.  Many happy hours were spent chasing the elusive 'big one' on Kootenay Lake, surrounding creeks and mountain lakes.  He shared his passions and love of the wilderness with all his kids and grand-kids over the years.  Dad lived all of his 92 years in Balfour except for a short stint away for military service from 1943 to 1946.  His knowledge and interest in the wars knew no bounds; he would have made an excellent history teacher.  He also had a deep love for the great literary masters, golf, bridge and especially his little grandchildren and great grandchildren.
Chuck was pre-decease by his first wife Evelyn in 1995, his daughter Nancy in 1978, his twin brother and his 6 sisters.  He was the last of the Noakes babes to arrive and the last to go. 
Chuck gave those in his life many gifts to cherish.  He is lovingly remembered by his wife Nina Smiley, children John (Denise) Noakes, Barb (Keith) Rowsell, Carol Noakes (Doug Desrosiers), Leslie Noakes, his step children and his many grandchildren and great grandchildren.
 Donations in Chuck's memory can be made to the Canadian Wildlife Federation or Nelson Red Cross Society.