McFayden, Keith
(October 30th, 2022)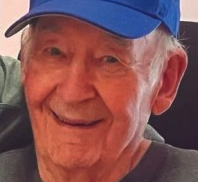 In the early morning hours of Sunday, October 30, 2022,  Keith passed away peacefully at Jubilee Manor in Nelson. He was 87 years old. Keith is survived by his wife of 64 years Leah, and their two sons, Cam (Corinne) and Blair. Keith also leaves behind 5 grandsons and 6 great grand children – soon to be 7.
Keith was born July 25, 1935 to Daniel and Mary (Maisie) McFadyen in Eriksdale Manitoba where he grew up in the family home with his younger brothers Ralph (Leyah) and Barry(Linda) and his younger sister Janet (Al). Sadly he lost his older brother Allen when Keith was just a year old.  Keith went to school, and worked in the family owned creamery.
Keith was working on becoming a school teacher when he changed course and joined the Royal Canadian Mounted Police. After basic training in Regina, he left the prairies and his beloved horse "Sinbad" and was stationed in the Burnaby, BC detachment. Burnaby is where he met the love of his life, Leah (Helen) Hild, the pretty young psychiatric nurse from Trail BC, They married a few years later on November 28, 1958.
Leah gave up her career in order to raise her children and together the family was transferred to Mission BC, then to Port Moody where Keith took a brief hiatus from the RCMP when he joined the Port Moody City Police.
After rejoining the RCMP,  Keith and his family were transferred to Kamloops, then Nakusp, and finally Nelson in 1975. Keith would finally retire from the Mounties and take a job as a fraud investigator with the provincial government retiring after several years from that position.
Keith's love of sports, (hockey in particular) was a source of great joy to him. He was a very accomplished goal tender and actually played senior hockey in Manitoba at a very young age. His love for the sport would lead him to continue playing and coaching his sons at various levels. Keith and Leah were also instrumental in building the minor hockey program in Nakusp, with Keith as the President and Leah as President of the Women's auxiliary.
Keith's main hockey goal was to play until he was 80 years old. Unfortunately, because of injuries including head trauma, he fell just short of his goal. His love of the game continued through "Lunch Bucket" hockey where Keith was the "crotchety" leader and organizer. Keith loved to make the rules and ensured everyone follow them.
Keith loved to watch baseball, especially the Blue Jays. He would make the annual pilgrimage to Grand Forks every summer for the International Baseball Tournament where he would be recognized by some of the returning players from Cuba.
Keith loved traveling and wished he could have made "just one more." trip to Victoria with Leah, and "just one more" trip to Bella Coola with George.
Keith was pre-deceased  by his parents Daniel and Mary, his older brother Allan and his younger brother Ralph. Keith would often refer back to his furry companion, Spanner.
Cremation has taken place and Thompson Funeral Service is in charge of arrangements. A celebration of life will take place in the spring.
The family wish to express their sincere appreciation to the staff at BC Ambulance service, Kootenay Lake Hospital, Columbia View Lodge, and Jubilee Manor.
In lieu of flowers, donations can be made to the Kootenay Lake Hospital Foundation.