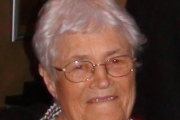 It is with great sadness that we announce the passing on January 13, 2015 of Mabel Lehrke, beloved wife, mother, Oma, Baba, sister, aunt and friend. 
Born in Saskatchewan, on January 23rd, 1928, she lived most of her life in British Columbia, between Nelson and Nanaimo. 
Mabel is survived by her loving husband Hans Lehrke, son Hans (Louise) Lehrke, daughter Melissa (Ed) Vanstone, grandson Nick Vanstone, and granddaughters Rachel Vanstone and Zoya Lehrke.
She is also survived by her brother and his wife, Alec and Elaine Voykin, of South Slocan, sister-in-law Verna Voykin of Castlegar, as well as numerous nieces and nephews. Mabel was predeceased by her father, William Voykin, her mother Mary Voykin, brother Jack Voykin, and sister Marjorie Malahoff.
Mabel was an avid gardener, and seamstress, who loved her family first and foremost.
She loved  camping, antique collecting, fishing, curling, bowling, spending time with her family, watching all of her grandchildren's varied activities, and the Vancouver Canucks.
She was a woman of great faith with a great devotion to our Lord.
The family would like to extend their thanks to the wonderful care workers at Dufferin Place, where Mabel was a resident for the past four years. Special thanks to Shannon,Lisa, and to Dr. Winder for her many years of care.
A celebration of Mabel's life will be held at Hope Lutheran Church, 2174 Departure Bay Road, Nanaimo, on Friday January 23rd, at 12:00 pm. Internment to be held immediately afterwards at Cedar Memorial Gardens.
Flowers are gratefully declined. Donations may be made to either the Alzheimer's Society of Canada, or the Kidney Foundation of Canada, in Mabel's memory.