Kenny Alfred Earl St. Thomas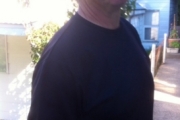 ST THOMAS, Ken
July 23, 1961 – July 17, 2014
It is with great sadness that we announce the passing of Ken St. Thomas who died suddenly while jogging in Nelson, British Columbia.
Ken was born in Nelson, BC July 23, 1961  He is only son of Mary and Jim St. Thomas.  He lived in Slocan, BC with his parents and his sister, Debbie for several years.  After his mother remarried he lived briefly in Cloverdale and Kamloops, BC.   Ken returned to the West Kootnays to live in Slocan as a teenager before finally settling in Nelson, BC in 1984 where he met Pam and married into a ready-made family.
As a young man, Ken loved cross-country skiing, fishing, hiking, woodworking and carving and in his later life he found the joy and solitude of kayaking and jogging and the fulfilment of gardening where his yard is filled with flowers. 
To many people of Nelson he was the "tomato man" who grew several hundred tomato plants for Pam to give away as part of their commitment to the environment and to others he recently became the man behind the smile who delivered mail to your government offices on Fridays.
Ken cut grass and shovelled snow to help his neighbours because he believed everyone can find a moment or two to help someone else – it's what people do.
He is predeceased by his father, James St. Thomas and his half-sister, Josie St. Thomas.
Ken is survived by his mother, Mary McMurray, his sister, Debbie St. Thomas; his two half brothers, Darren and Dean McMurray; his half sister, Corrine St. Thomas and step sister and brothers, nieces and nephews throughout the BC.
He will be sadly missed by his chosen children and grandchildren Samantha and her sons Jesse and Jordon, Sean & Lisa and their sons Ethan and Lucas and their daughter Savannah , Simara and her daughter Tey'ka and son Malik and Galadriel and her sons Riley, Thomas and Jack.  His four-legged family Hamish and Sabra wait anxiously for him to come through the door to go out walking. 
The life Ken and Pam shared continued to expand day-by-day throughout their marriage.  She finished his sentences – he knew exactly what she needed or wanted sometimes even before she did.  They truly enjoyed  each other's company. 
A service for Ken will be held on Saturday, July 26th at the chapel of Thompson Funeral Service 613 Ward Street, Nelson at 2:00pm.
Online condolences may be expressed at www.thompsonfs.ca
Funeral arrangements are under the direction of Thompson Funeral Service Ltd.