Jupp (Butlin), Joyce Marie
(May 27th, 2020)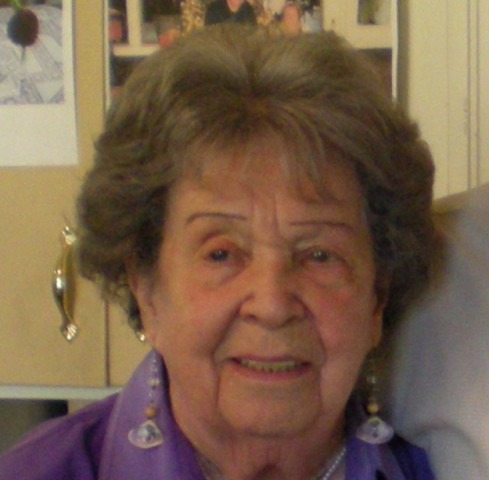 Joyce Marie Jupp (Butlin)
1920-2020
Joyce Marie Jupp (Butlin) passed away on May 19, 2020.  She had just celebrated her 100th birthday on April 12 of this year.
Joyce was born in St. Albans, England and came as a young child with her parents to Canada.  They lived in Fort Steele before moving to Nakusp in 1928 and then to New Denver in 1938.  She received her education in Fort Steele, Nakusp and Cranbrook, and was a graduate of the Victoria Normal School for teachers. 
She taught school in Glenbank and New Denver before marrying William Jupp in 1943.  While raising a family she studied piano.  Between 1958 and 1967 she gave piano lessons to many children.  For many years she was the organist for St. Mark's Anglican Church and also served on the church committee.  She returned to teaching in Nakusp and Glenbank in 1967, retiring in 1981.
Joyce was a Past Matron and Life Member of Martha Chapter # 24, O.E.S. and also a Past Officer of the Grand Chapter of BC.  She served as secretary of the local chapter for 15 years and was the organist over 20 years. She was made a Life Member of the Nakusp Seniors Citizens Association for her many years as Treasurer.  Joyce also volunteered at the Nakusp library for many years.
Joyce was predeceased by both her husband's Bill Jupp (1998) and Charles Horrey (2010) and her grandson Douglas.  She will be missed by her children: son Gary (Rose Marie), daughters Eleanor and Jennifer, her grandchildren:  Vikki, Jonah, Galaxy, Sidney, and 5 great grandchildren: Brynn, Kaiya, Rosie, Nico, and Bodhi.
The family would like to thank Halcyon Home for their outstanding care of our Mother.  Thank you to the Nakusp Hospital staff for the loving care she received.
Those who desire may make donation in memory of Joyce to Halcyon Home, Box 910,  Nakusp BC  VOG 1RO
Due to the Covid-19 there will be no service at this time.
Share memories and condolences through Joyce's obituary at www.fischersfuneralservices.com
BLESS BE THE TIE THAT BINDS