Gremm, Howard Gordon
(May 1st, 2020)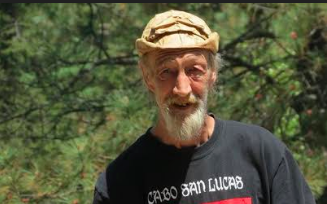 Howard Gremm, also known as Howie, passed away on March, 16th 2020.
Howard was a man of many things, many people in Nelson might have recently known him as the taxi-cab driver who talked about smiling yoga and radical forgiveness, others might remember the funny guy who made creative hats out of paper bags. Those who knew him well, knew that he was also a father, recently became a grandfather.
He was absolutely eccentric and had worn many figurative hats in his life he had been a farmer, a long hair hippie, a cowboy, a fine wood worker, a carpenter, a jack of all trades, a passivist, a buddist, and a brilliant creative soul who loved old school rock and roll and the Greatful Dead and loved the local band the Wild Turkey's.
He was also addicted to many things, such as reading way too much, arguing over syntax,  or politics, or coming up with radical left wing ideas, listening to CBC radio and riding his bicycle around town. He was famous for laughing at his own jokes when others fell silent, awkwardly, only some of them getting the punch lines. 
He was also well known for his gentle and kind nature toward all people regardless of where their lives had taken them he would always reach out and share what he had with someone in need, listen to their stories or help them, to get back on their feet again. In the last 10 years he volunteered at the local food banks and resided in facilities provided by Nelson Cares.
Howie will be missed by so many people including; his daughters, Brenna and Zoe, his grandson Riley, his kindred sons Mike, Dan and Robin Henderson, Mikes children Emily Rose and Alexander Henderson, his brother and sister Rick and Jenny Gremm, his nieces, Heather, Olivia, Naomi, Emily, Christina Chloe, and Cedar, his nephews Josh, Brendan, Justin, Gavin, Keiran and Jeremy, and his extended family, Heather Carl and Daniel.
Howard would have turned 65 on April 29th 2020.
Due to the onset of Covid 19, a celebration of life will be put on hold until groups of people are safe again. Howards family appreciate the kind staff and residents of Nelson Cares Ward Street place and know that he had many friends and neighbors who will deeply miss him as well.
The family will post a notice at Ward Street Place when we are ready to celebrate his life and any of his friends will be welcome to attend.