Evdokimoff, Shirley Anne (Markin)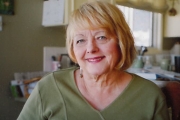 Evdokimoff, Shirley Anne (Markin)
February 1st, 1946 – October 17, 2016
Shirley passed away suddenly and peacefully Monday October 17th at the Castleview Care Centre in Castlegar, B.C.  Shirley will be remembered for her passions such as cooking, baking, sewing, craftwork, and gardening.  Shirley loved her family and always made her family her top priority.
Shirley was a social butterfly who loved to laugh, to joke around, and to surround herself with positive people as much as she could.
Shirley is survived by her husband Paul, Son Andrei (Tasha) and their son Aleksei, brother Steven Markin, sister Marcie (Michael) Lebedow, and their children.
Although we are going to miss Shirley with all our hearts, we are thankful that she has moved on from this life, and will suffer no longer.
In lieu of flowers, donations can be made to the Alzheimer Society of B.C., West Kootenay Division: http://www.alzheimer.ca/en/bc/We-can-help/Regional-Resource-Centres/Interior-Region
A private family service will be held.
Arrangements are under the direction of Thompson Funeral Service.  Online condolences may be expressed at www.thompsonfs.ca