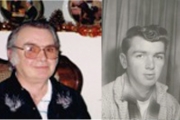 Edward Lee Cousins
June 23, 1940 ~ December 7, 2014
Lee passed away in the Victorian Community Health Center in Kaslo, BC on Dec 7, 2014 where he had been a resident for the past 10 years. Lee was born in Smeaton, Saskatchewan on June 23, 1940. He grew up in Kaslo and Fort St John, BC. For most of his life he worked as a welder in the oil fields. Both of his parents pre-deceased him, Amos Cousins in 1955 and Reta Leyden in 2004.
He is survived by his sister, Jeanette McNamara (Kelowna, BC) & brother, Roger Cousins (Oyama, BC), daughters Angie Cousins (Grande Prairie, AB) & Jodi Cousins (Prince George, BC) 6 grandchildren and one great-grandchild along with many nieces and nephews. He will be greatly missed by all. A Memorial to be held at a later date.
Online condolences may be expressed at www.thompsonfs.ca
Funeral arrangements are under the direction of Thompson Funeral Service Ltd.