Crowley, Marguerite Denise
(March 14th, 2023)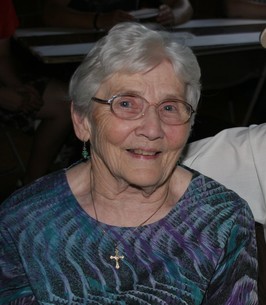 Marguerite Denise Crowley (nee Johnson) was born November 5, 1926, near Pelly, SK, and passed away peacefully with family by her side on March 14, 2023, in Penticton, BC at the age of 96 years.
Predeceased by her husband Myles Crowley in January, 2020, Denise is survived by her children; Jake,  Kathy, Mike, Daryl, Yvonne, Lynette, and Maureen, 17 grandchildren, 18 great-grandchildren and one great-great-grandchild.
One of 13 children, Denise is also survived by her sister, Karen McKay and numerous nieces and nephews.
At the age of 10, Denise and her family moved to BC and settled in the Marron Valley, near Allen Grove. She attended high school in Penticton and attended Normal School in Vancouver, becoming a teacher. She met and later married Myles, her husband of 71 years, and together they lived in Squamish, Oliver, Westbridge, and finally Nelson.
Denise was a full-time mother and homemaker, but also worked as a seamstress. She was active with the Catholic Women's League and was a member of the Kootenay Quilter's Guild.
Mass of Christian Burial will be held on April 1, 2023, at 11:00 am at the Cathedral of Mary Immaculate, 813 Ward Street. Interment at Nelson Memorial Park Cemetery and reception to follow.