Chrunik, Dorothy Audrey
(September 14th, 2020)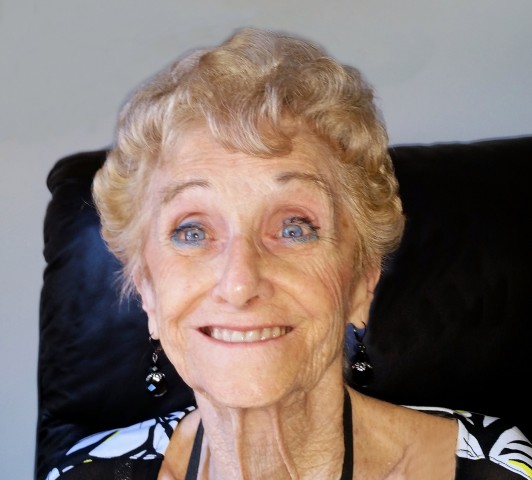 Dorothy AUDREY Chrunik, age 83, passed away the same way she lived most of her life, with a smile on her face, on September 6, 2020 in Salmon Arm, B.C.
Audrey is predeceased by her loving husband Dick Chrunik, Bud Mayer, (father of her children), brother Arnold Sherwood, parents Dorothy and Tom Clem and her fur-baby, Samantha the cat.
Audrey will forever be remembered and loved by her daughters; Cindi Sexsmith (Tony) and Shannon Tetz (Duane) grandchildren Peter Winstanley, Krystal Winstanley (Kim), Wade Harestad (Stephanie) and Chellann Harestad, three great grandchildren; Mila, Alexis and Maks Harestad (Wade Harestad), brother Ed Clem (Gabrielle), many nieces and nephews and her close friend Don Herrmann. All of these she loved and touched deeply.
Her grandchildren will always remember the fun filled summers spent at Grandma and Grandpa's house in Genelle. Swimming, roller-skating in the driveway, trips to their favourite restaurant for spaghetti and meatballs and raiding fruit from the neighbour's orchard are especially cherished memories.
Audrey was a social butterfly and always enjoyed a good get together with friends and family. She also loved Golfing, tap dancing, Wii bowling, reading a good romance novel and helping with gatherings at the local Senior Community Hall.
The family would like to thank Dr. Beech, the caregivers of Cottage 3 and all the staff of Hillside Village. A special thank you to Pastor Vikki for being there, holding her hand and bringing the family closer hosting numerous video chats.
The family appreciates the gesture of flowers and requests that in lieu of flowers to us, that you send flowers to someone you love to enjoy and let them know they are loved, or take someone you love out for a banana split (Audrey's favorite!).
Due to the exceptional circumstances of this year, there will be a virtual celebration of life in the near future.
For information on the date, time and virtual platform for the celebration of life, please reach out via email to: tclaptop@shaw.ca
Share memories and condolences at www.fischersfuneralservices.com