Volunteers help cleanup wildfire debris during Nelson Rail Trail FireSmart Day
Members of the community joined with Nelson Fire and Rescue Services and Regional District of Central Kootenay Wildfire Mitigation Programstaff to help reduce ground and ladder fuels on the Rail Trail above the Heritage City during the Nelson Volunteer Rail Trail FireSmart Day.
More than 40 volunteers worked alongside Nelson Firefighters, local professional foresters and Loki Tree Services to reduce ground and ladder fuels for 8-10 metres on either side of the rail trail over a section of about 1.1 kilometres above Nelson.
The objective of the day includes increasing the trail's wildfire resiliency and promoting the importance of FireSmart in the Heritage City community.
"The Rail Trail is a recreational corridor for our community, it also acts as a fire break and just like we all need to FireSmart our properties, we also need to FireSmart this firebreak so a fire is less likely to impact our community," said Nelson Fire and Rescue Chief Jeff Hebert.
Volunteers, including Nelson City Councilors Leslie Payne and Jesse Woodward, met at the intersection of Svoboda Road and the Rail Trail above Fairview.
After registering, volunteers were slotted into teams to work on the appropriate areas of the rail trails.
Following a brief safety meeting, the volunteer teams walked west along the rail trails to the start of the section that was brushed by local professional foresters.
Volunteer teams were given a brief tutorial by Loki Tree Services before rolling up the sleeves to begin removing logs, branches and dead trees along a section of the Rail Trail to reduce the ability of a wildfire to travel through the firebreak.
The materials will be chipped this week by Loki Tree Services.
The Rail Trails remained open to the public while crews removed debris.
Once completed, a light lunch was provided to volunteers.
This event is made possible thanks to funding from Columbia Basin Trust and support from BC Wildfire Service.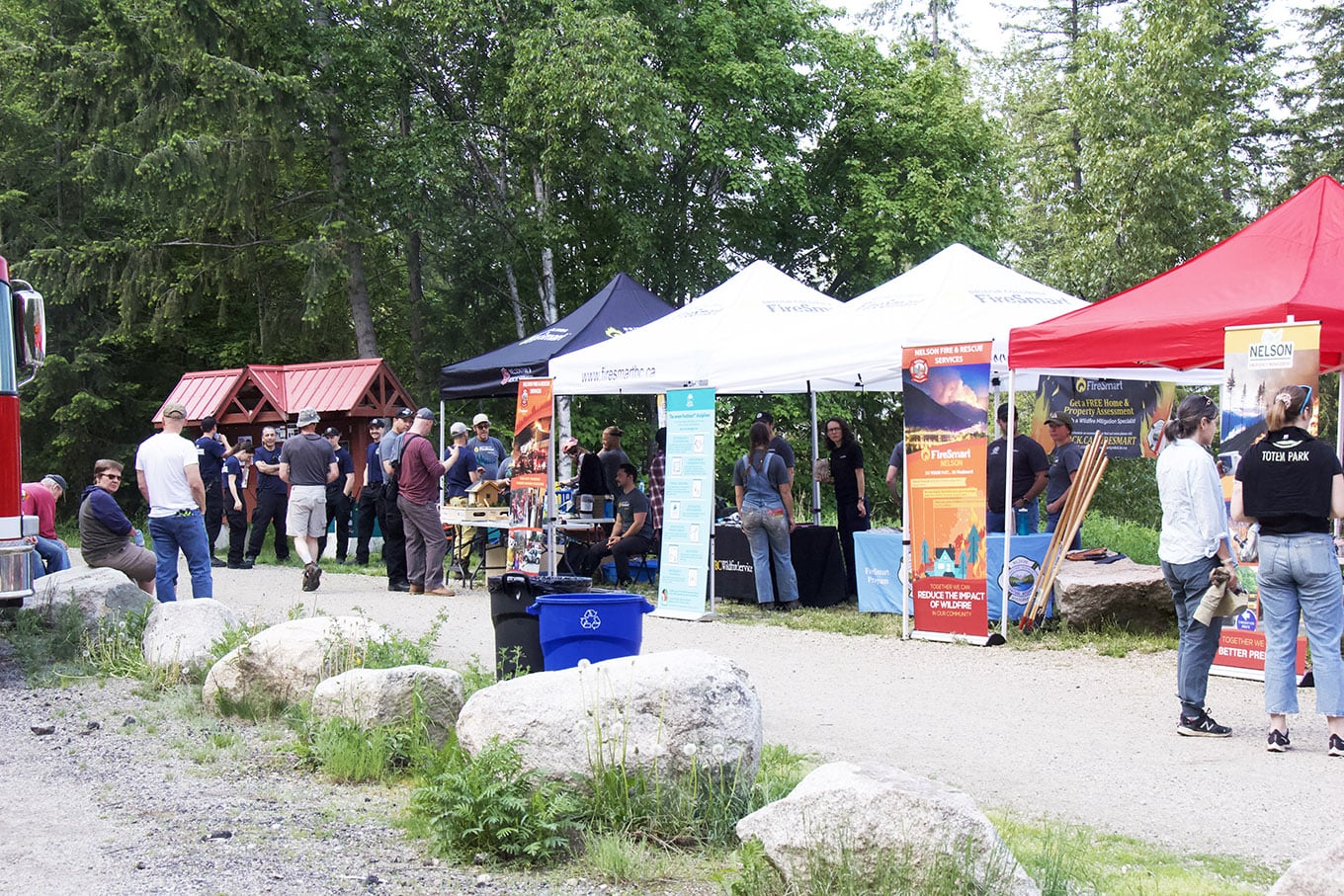 Information tents were set up by Nelson Fire and Rescue Services and City of Nelson Emergency Operations to provide tips on making homes firesmart.
Nelson Fire and Rescue Services Chief Jeff Hebert provides safety tips to the volunteer teams prior to the venture into the woods.