Career-Ready Education Meets Career-Ready Employers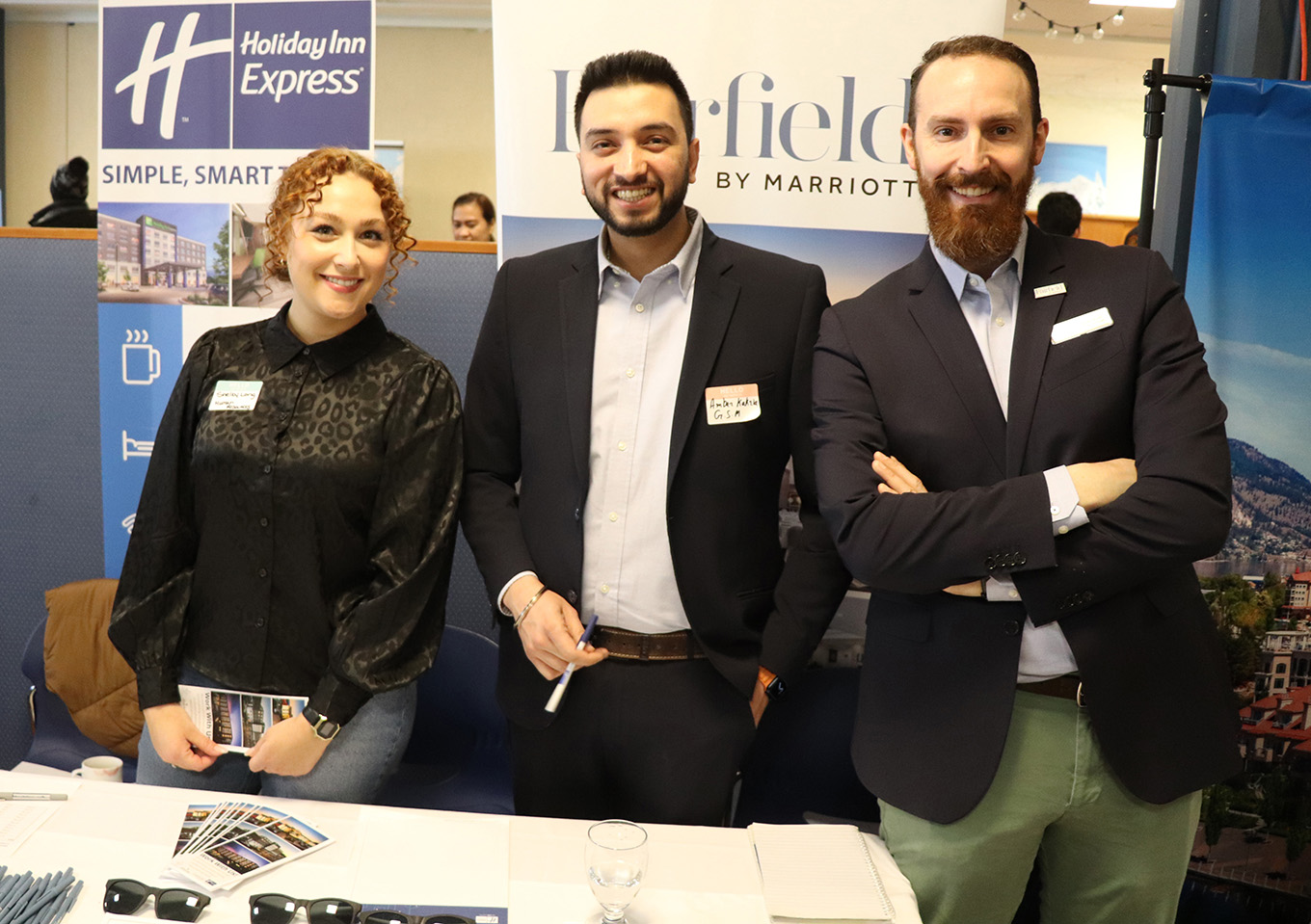 Bright futures await graduates from Selkirk College's School of Hospitality & Tourism and employers from across the province who are eager to meet potential industry stars descended on Nelson's Tenth Street Campus to get acquainted.
The annual School of Hospitality & Tourism Job Fair was held at Mary Hall in mid-February with more than 20 employers setting up booths in an effort to entice more than 100 current students looking for both mid-program work terms and after-graduation permanent employment.
From Okanagan wineries and west coast resorts to local pubs and regional accommodators, it was a bustling atmosphere as students made connections, gathered information and set-up afternoon interviews.
"It's important for us as employers to get out into communities and not just wait for people to come to us. We need to introduce ourselves to them and sell the dream of working in this amazing industry," says David Foot, the Director of Operations for Food & Beverage at the Delta Grand Okanagan Resort in Kelowna.
"We have a great relationship with Selkirk College and have got some wonderful people out of this school. They have quality instructors and great curriculum, graduates come out of the program with skills that are applicable immediately."
Selkirk College alumnus Amber Kakria was at the job fair representing Kelowna's Holiday Inn Express & Suites. Last year at this time, Kakria was on the other side of the booth as he was looking for his next step after graduation. He is now the Guest Service Manager at the Kelowna accommodator and a valued member of his team.
Originally from India, Kakria came to Selkirk College to take the Post-Graduate Diploma in Hospitality.
Though he had three years of experience working in the industry prior to coming to Canada, he says that the two-year program based out of the Tenth Street Campus connected the dots perfectly for his refreshed career.  
"Selkirk College is a highly-rated school, it has very good placements and the value of knowledge is better than all the rest," Kakria says.
"I learned so much during my time here because the instructors are so knowledgeable and care about the students. I am so grateful to all my teachers because they taught me what I needed to know to get into that position quickly."
Back at the Delta Grand booth, Foot says there are more opportunities than ever in the hospitality industry.
A 35-year veteran of the industry who was the executive chef at the property before moving into his director position, he feels a formal education is still the best early step for those looking for a fulfilling and exciting career. 
"I highly encourage people considering this industry to attend college," says Foot.
"If you get a year or two under your belt from a structured curriculum, it gives you the basics to push your career forward. You need to be driven, but if you arrive with the basics then the employer can take that and help you move forward."
The Selkirk College School of Hospitality & Tourism includes five programs that includes: Professional Cook Training (Red Seal), Resort & Hotel Management, Post-Graduate Diploma in Hospitality Management, Post-Graduate Diploma in Culinary Management and Ski Resort Operations & Management.
You can learn more about career-ready educational opportunities in this vital sector of the economy by visiting https://selkirk.ca/school/hospitality-tourism