Nelson resident assists in knocking down fire on Highway 33 outside Kelowna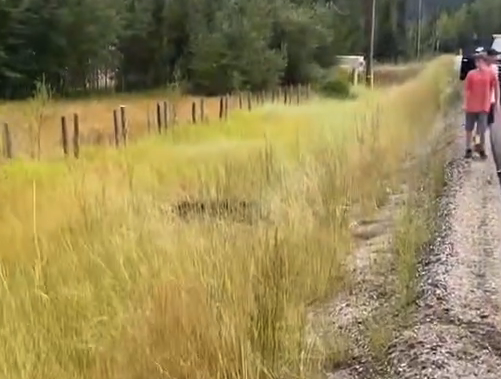 A Nelson resident joined forces with other drivers outside Kelowna Friday to help extinguish a fire from spreading to a nearby home.
Josh Georgetti of Nelson was driving back on Highway 33 approximately 14 kilometres outside the Central Okanagan City when he noticed fires on both sides of the road west of the Joe Rich Fire Hall.
Georgetti said it was like someone tossed out a cigarette butt.
"(It was) like one out of the passenger side (and) one out the driver's side," explained Georgetti, who had been in Kelowna visiting his fiancée Emma at Kelowna General Hospital.
Georgetti said he stopped, and along with the help of 10 to 15 other people who were also driving past the fire scene, helped to extinguish the fires.
"You see smoke in August and it's definitely not a good sign," Georgetti said.
"We all pulled over . . .. I had rakes in the back of my Jeep and some people had pieces of 2x4s and 2x8s and people had water bottles. It was crazy, but we got it out."
The citizens had the fires contained in approximately 15 minutes just before the firefighters from the Joe Rich Hall arrived.
Georgetti said one fire was about 15 square feet in size while the other was much larger.
"It was definitely pretty big; it was full on," Georgetti said.
"If nobody had stopped, that house probably would be gone, it would have been pretty bad," he added.
"You could see it started at the highway and worked its way into the tall grass."
BC Wildfire Dashboard is reporting 969 fires currently in the province this year — of those 191 are active with 70 new in the past two days.
There are currently 35 active fires in the Kamloops Fire Centre, the region where this fire is located, and 79 in the Southeast Fire Centre.
This fire in Joe Rich was close to a nearby residence along Highway 33. The homeowner, once realizing the danger of the fire, also assisted with a garden hose to extinguish the remaining hot spots.
Georgetti was in Kelowna to visit his fiancée Emma, who has been in KGH since July 25, 2022, recovering from a serious cycling accident on an electric bike.
Emma, 34 weeks pregnant with the couple's first child, was airlifted from Nelson to KGH following the crash that resulted in head injury, broken collarbone, multiple scraps and bruising and a compression fracture to her lower lumbar.
A GoFundMe page has been organized to assist the family with medical expenses and support for Baby G.
A GoFundMe page has been started to help ease the financial stress of Emma, Josh and Baby G to be. — Screenshot photo