Nelson SAR rescue injured skier from backcountry near Whitewater Ski Resort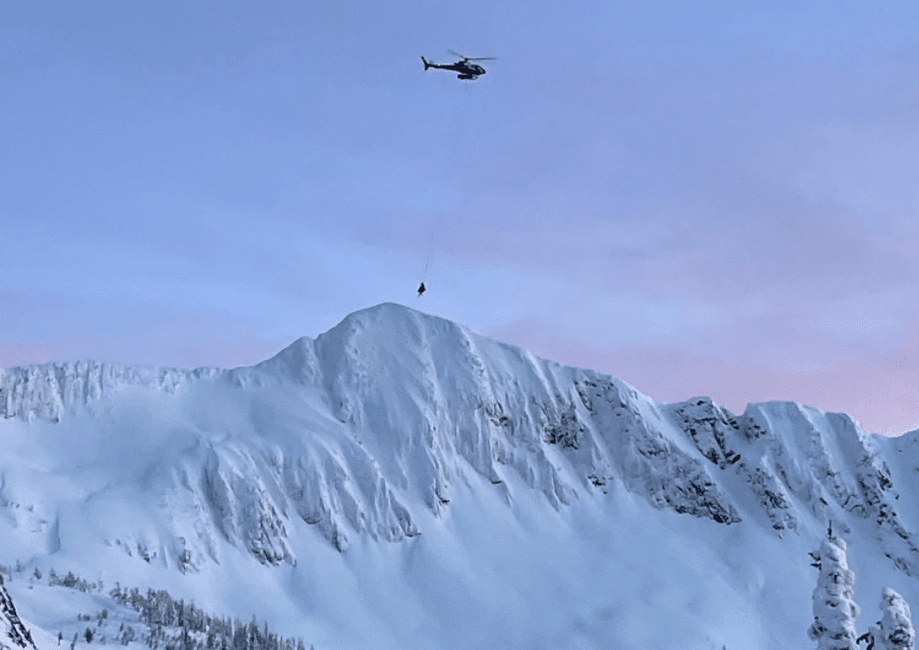 Quick action to activate an SOS device by an injured skier in the backcountry near Whitewater Ski Resort is being praised by Nelson Search and Rescue.
Nelson SAR said on social media members rescued an injured skier in the backcountry near Emma Peak, a short distance from the popular ski resort, after being advised of the incident.
"Some key points to note on this rescue are that it was important that the subject used their SOS device as early as possible in the day to send out the notification," Nelson SAR social media post explained.
"Any later and possibly a night rescue and/or potential night out in the backcountry would (have) taken place putting the subjects and/or rescuers at greater risk."
Once located, Nelson SAR team used a helicopter and long line to remove the skier to safety before darkness.
"The safest, most efficient way to perform the rescue was via a helicopter and class D long line," Nelson SAR said.
"There was just enough daylight left in the day for this method to be effective. The subject was rescued, transported via long line to the Whitewater parking lot and put into the care of paramedics with BCEHS."
Nelson SAR would also like to thank Kootenay Valley Helicopters, Whitewater Patrol, BCEHS, RCMP and the Emergency Coordination Center for assisting in the rescue operation.
Nelson SAR has been busy during the winter season with rescue operations in and around Whitewater Ski Resort.
On New Year's Eve, Nelson SAR received a call for service near Evening Ridge.
On December 27, Nelson SAR rescued four people and two dogs after the backcountry ski party was involved in an avalanche on the south face of East Peak of Evening Ridge.
Nelson SAR member controls the long line from the helicopter used to remove the injured skier. — Nelson SAR photo
Emma Peak is located east of Whitewater Ski Resort. — Google Maps