Leafs Sookro joins Ryden, Weare as KIJHL Three Stars for November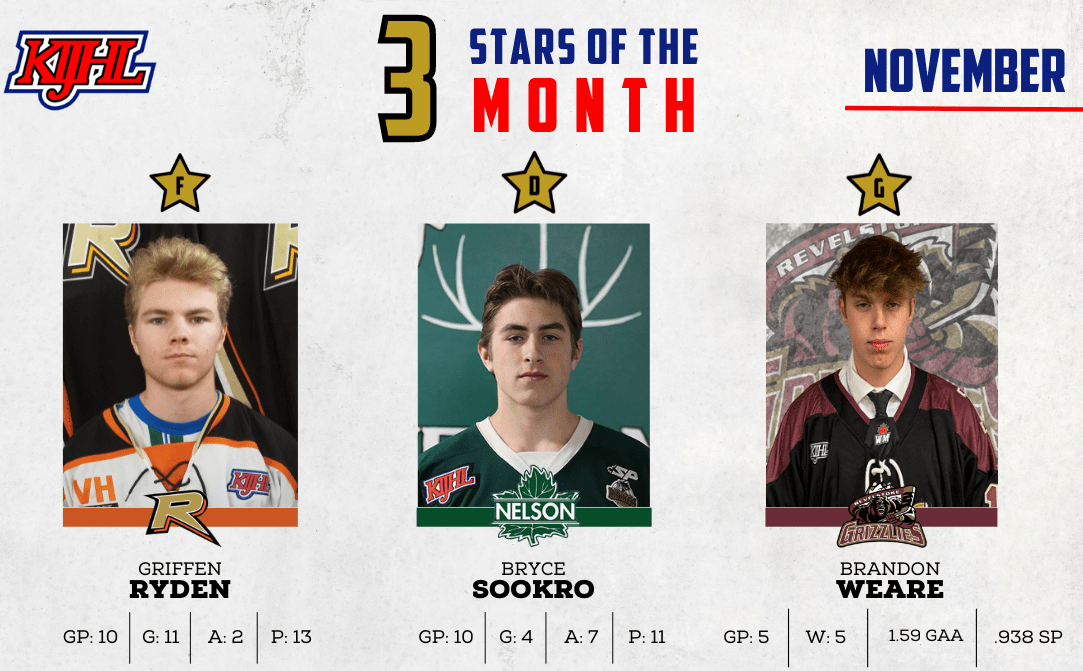 First it was a weekly Kootenay International Junior Hockey League "Three Star" selection.
Now, Leafs defenceman Bryce Sookro has earned the KIJHL "Three Star" selection for November 2021 as the top rearguard.
Sookro earned the selection along with top forward Griffen Ryden of the Castlegar Rebels and top goalie, Brandon Weare of the Revelstoke Grizzlies.
Sookro has been playing like a seasoned-veteran for the Heritage City franchise, totalling four goals and 11 points in 10 games.
Three of Sookro's goals were insurance markers helping the Leafs solidify wins and another was shorthanded, helping the Green and White to win six games in November.
Sookros enjoyed three two-point performances and collected three assists against Kimberley Dynamiters on Nov. 26.
For the season, Sookro has four goals and 16 points in 19 games, which leads the Leafs in scoring. He's also eighth among rookies in scoring.
Sookro was selected as a Top Defenceman for the KIJHL 3 Stars of the Week for the period ending Nov. 28.
Nelson climbed two points closer to Neil Murdoch leading Beaver Valley after the Leafs edged the Nitehawks 3-2 Tuesday in Nelson.
Bennett Anklewich scored the winner in the third period on the power play to spark Nelson past the Nitehawks.
Nelson, 11-7-0-1, trails Beaver Valley by two points in the standings.
The Leafs host Castlegar Rebels Saturday at the NDCC Arena. Puck drop is 7 p.m.
Griffen Ryden – Top Forward:
The Brandon, Manitoba product scored 11 goals and had 13 points in 10 games. Ryden netted a hat-trick, including a short-handed and game-winning goal against Beaver Valley on Nov. 14. He scored another short-handed goal against Golden on Nov. 13 and opened the scoring in games four times. He helped the Rebels earn six wins. In 17 games this season, Ryden has 16 goals and 21 points and is tied for the league lead in goals and is 11th for points.
Brandon Weare – Top Goalie:
The Calgary, Alberta product won all five of his starts in November to contribute to the Grizzlies going undefeated during the month. He turned aside 120 of 128 shots, which included a 22-save shutout versus 100 Mile House on Nov. 6. He posted a 1.59 GAA with a .938 SP. For the season, Weare has nine wins (2nd in the KIJHL), a .939 SP (1st) and a 1.62 GAA (1st.)