'Consent Not Coercion' rally protests vaccine mandates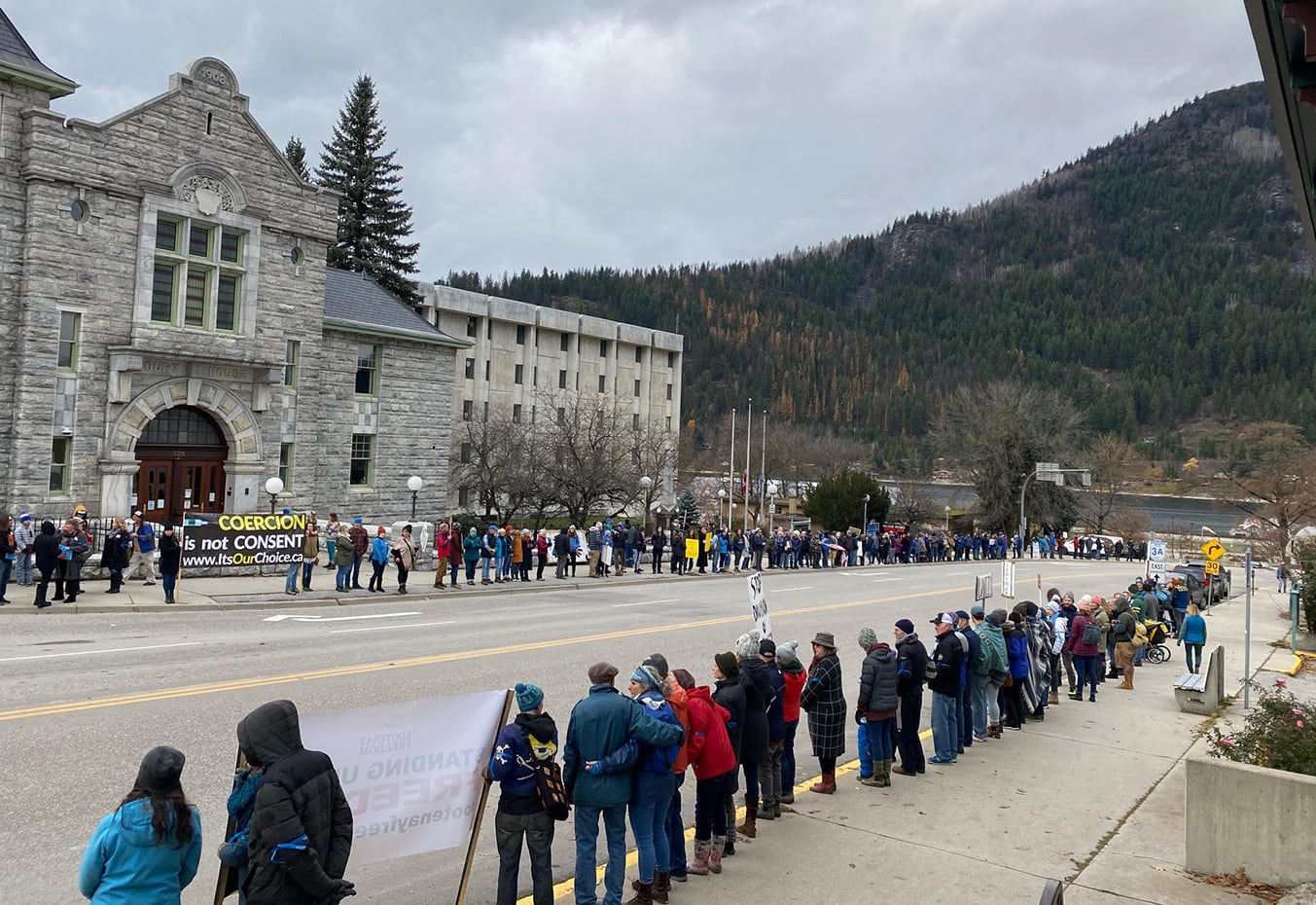 More than 150 people in Nelson lined both sides of the street in front of the Provincial Courthouse Sunday to peacefully protest the B.C. government's recent vaccine mandates.
The rally, dubbed "Consent Not Coercion", was part of other scheduled events in the province as some members of the public continue to make their voices heard that they are not happy with the BC Government's vaccine mandate that affects workers in the province.
In October, the BC Government announced a vaccine mandate that affect approximately 30,000 public service employees in the province.
Those workers have until November 22, 2021, to prove they have been vaccinated, or face the threat of being placed on a three-month unpaid leave.
The government continues to push for all levels of government and healthcare to be vaccinated, but a small, but passionate, minority continue to fight for their rights.
Sunday, people lined the 300 block of Ward Street to peacefully protest, some holding signs that read "Coercion is not Consent" and "Standing up for Freedom".
While some drivers on the street honked horns in support, others were clearly frustrated with the crowds on the sidewalk.
Currently in BC, 90.6% (3,917,869) of all eligible adults have received their first dose and 86.3% (3,733,309) have received their second dose.
Friday, the province reported 549 new cases of COVID-19, including one epi-linked case, for a total of 208,265 cases in the province.
There are 4,483 active cases of COVID-19 in the province, and 201,267 people who tested positive have recovered. Of the active cases, 441 individuals are in hospital and 129 are in intensive care. The remaining people are recovering at home in self-isolation.
Friday there were a reported 110 new COVID-19 cases in Interior Health for a total active case count of 686.
People attending Sunday's rally lined both sides of 300 Ward Street to stand in solidarity against mandates. — The Nelson Daily photo