Nelson anti-vax supporters join World Wide Rally for Freedom demonstrations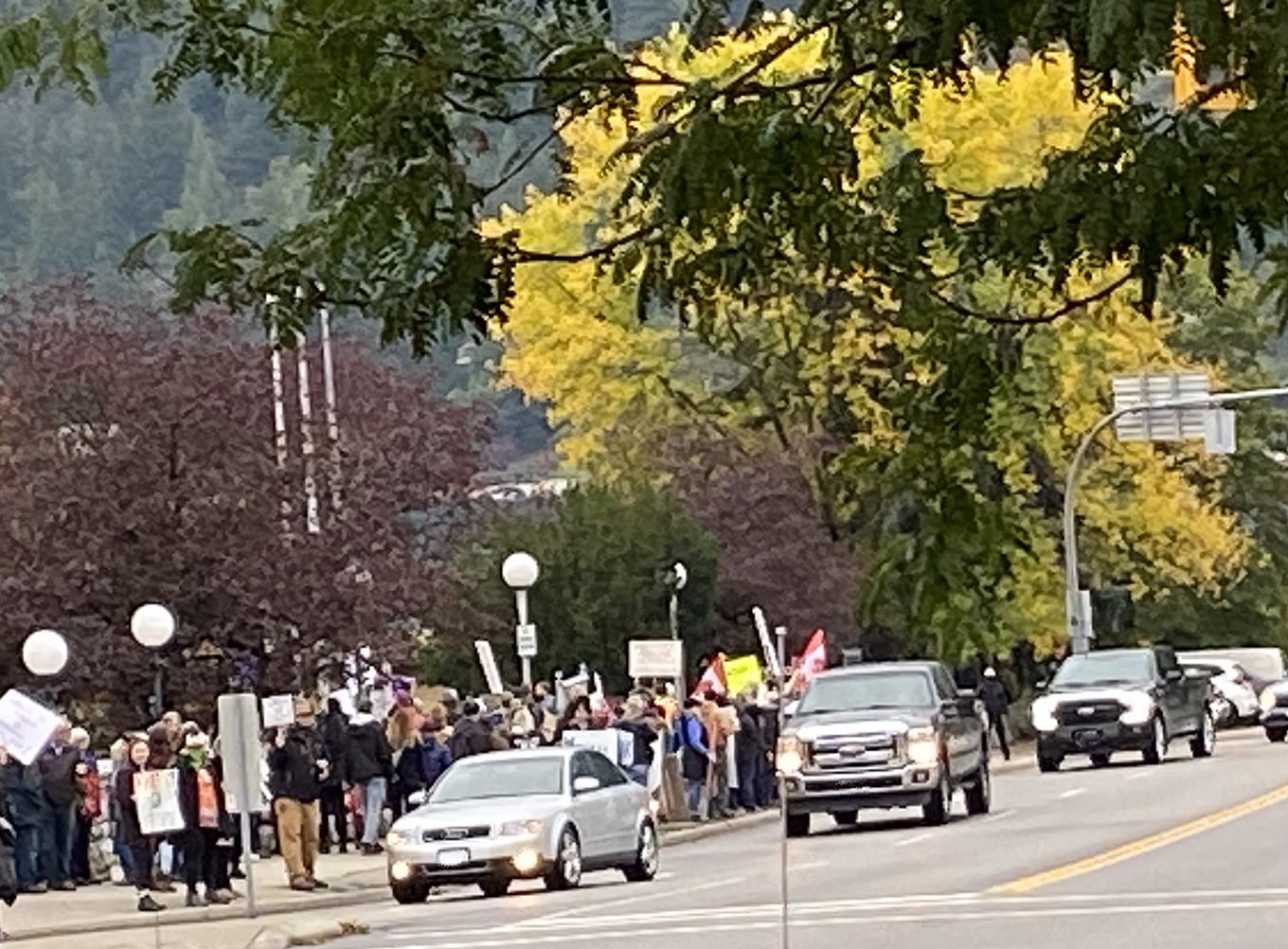 Saturday marked another round of protests in Nelson as anti-vaccine supporters filled the sidewalks in front of City Hall as part of the mass World Wide Rally for Freedom demonstrations across Canada and the world.
More than 300 protesters waved Canadian flags and held signs, some saying "Say No to Vaxx Tyranny", "No to Vaccine Passports" and "Pro-Choice NO Mandates" to show their displeasure with various public-health measures.
The event lasted most of the early afternoon as protesters lined the sidewalk in front of the Provincial Courthouse and the Ward Street side of the Nelson and District Credit Union sidewalk as some vehicles driving along the Highway 3A access through Nelson honked in support.
Nelson Police officers were on scene to monitor the protest.
The protest, comes after School District 83 in the North Okanagan and Shuswap regions were forced to lockdown schools after vaccine protesters entered three schools on Friday.
Salmon Arm RCMP confirmed that protesters entered a school on Friday before being stopped by a security guard.
The actions of vaccine protesters, which outraged Public Safety Minister Mike Farnworth, have forced the district to lock schools beginning Monday, September 20th.
Parents wanting to enter during school hours will need to notify school officials.
In other COVID-19 News:
Thursday, Interior Health issued a media release advising anyone attending a September 6 grad party event in Armstrong to self-monitor of COVID-19 and get tested is they begin to exhibit symptoms following a possible exposure.
Interior Health said public health contact tracing is under way and, where contact information exists, IH is reaching out directly to individuals who have been exposed.
"Confirmed cases include a small number of Grade 12 students at Pleasant Valley Secondary School. Close contacts of those cases have been identified and notified," the Interior Health media release said.
"There is no evidence of transmission in the school setting at this time. Out of abundance of caution, IH has asked Grade 12 students and staff who were potentially exposed and who are not fully vaccinated to isolate at home for ten days."
Interior Health said individuals who had received two doses of vaccine by Aug. 30 can continue to attend school while self-monitoring for symptoms and individuals seeking a test should contact the closest Interior Health community testing and assessment centre.