UPDATED: Balfour Harrop Chief credits FireSmart for structure fire not spreading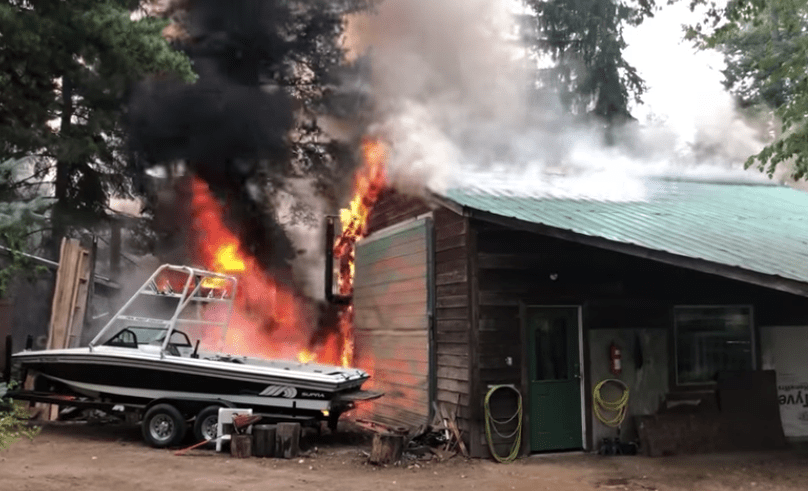 Pat Hergott, Balfour Harrop Fire Chief, credits FireSmart wildfire risk mitigation efforts as reason a fire Thursday morning near Kokanee Creek Provincial Park from not spreading to neighbouring houses or forest.
Hergott said Balfour Harrop Volunteer Fire Department responded to the structure fire at 12 Mile on the North Shore Thursday morning after receiving a call from a neighbour that fire had taken over a small automotive shop located on private property.
Hergott said with the assistance of the North Shore Fire Department, Nelson Fire and Rescue Services, 21 firefighters had the fire completely extinguished within two hours.
Hergott said some trees surrounding the property were charred by the fire and the building had to be torn down to ensure there were no remaining embers that could potentially re-ignite.
He said as of 11:30 a.m., there was no smoke and no danger remaining.
"The fire wasn't able to spread to the neighbouring residence, thanks to the 20 feet of rock surrounding the home," Hergott said.
"This is a great example of how implementing FireSmart recommendations at your home can make a significant difference in preventing the spread of fire and protecting your property in a situation like this."
BC Wildfire Service Ministry of Transportation and Infrastructure, RCMP, BCAS also attended to support the incident.
Highway 3A, which was closed for part of the morning, was re-opened to single-lane traffic before being completely opened later.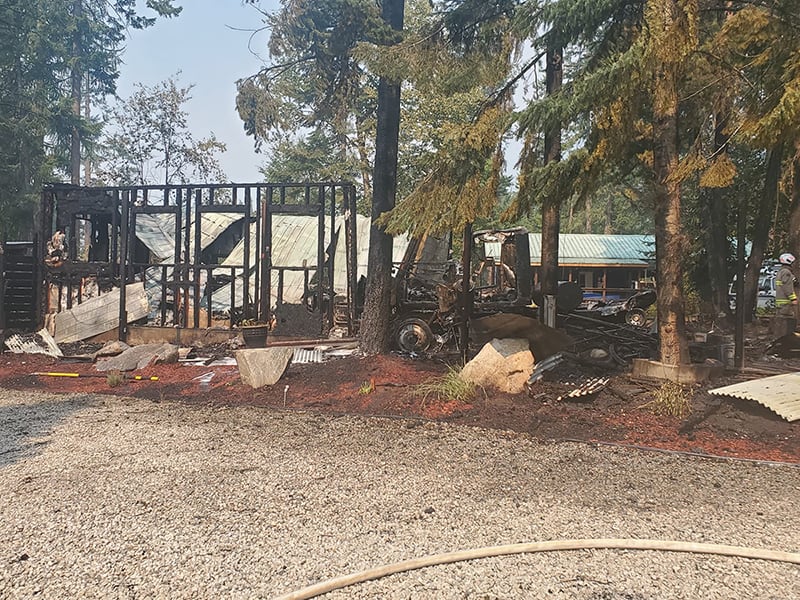 The fire was confined to an out building, thanks to a the blaze being spotted by a neighbour and quick response of local fire departments. — Facebook
Quick response by fire crews contain blaze on North Shore
Regional District of Central Kootenay information officer Dan Elliott told The Nelson Daily that the fire on the North Shore has been contained.
Elliott said fire crews responded quickly to the garage fire and were able to stop the blaze from spreading into the tinder dry forests surrounding the house on HIghway 3A, near 12 Mile on the North Shore.
Fire crews from the RDCK and Nelson Fire and Rescue Services responded to the fire that was called in Thursday morning.
Elliott said Highway 3A is now open to single-lane traffic.
For more information regarding highway closures throughout the province, please go to DriveBC.
House fire on North Shore, Highway 3A closed to traffic
Fire Departments from the Regional District of Central Kootenay and City of Nelson are on scene of a fire near 12 mile on Highway 3A.
The house fire, believed to have started in the garage, is across from Spearhead on the North Shore.
Highway 3A was closed to traffic while crews battled the blaze.
More to come when information becomes available.