Extinction Rebellion West Kootenay stages rally in Nelson against old-growth logging in BC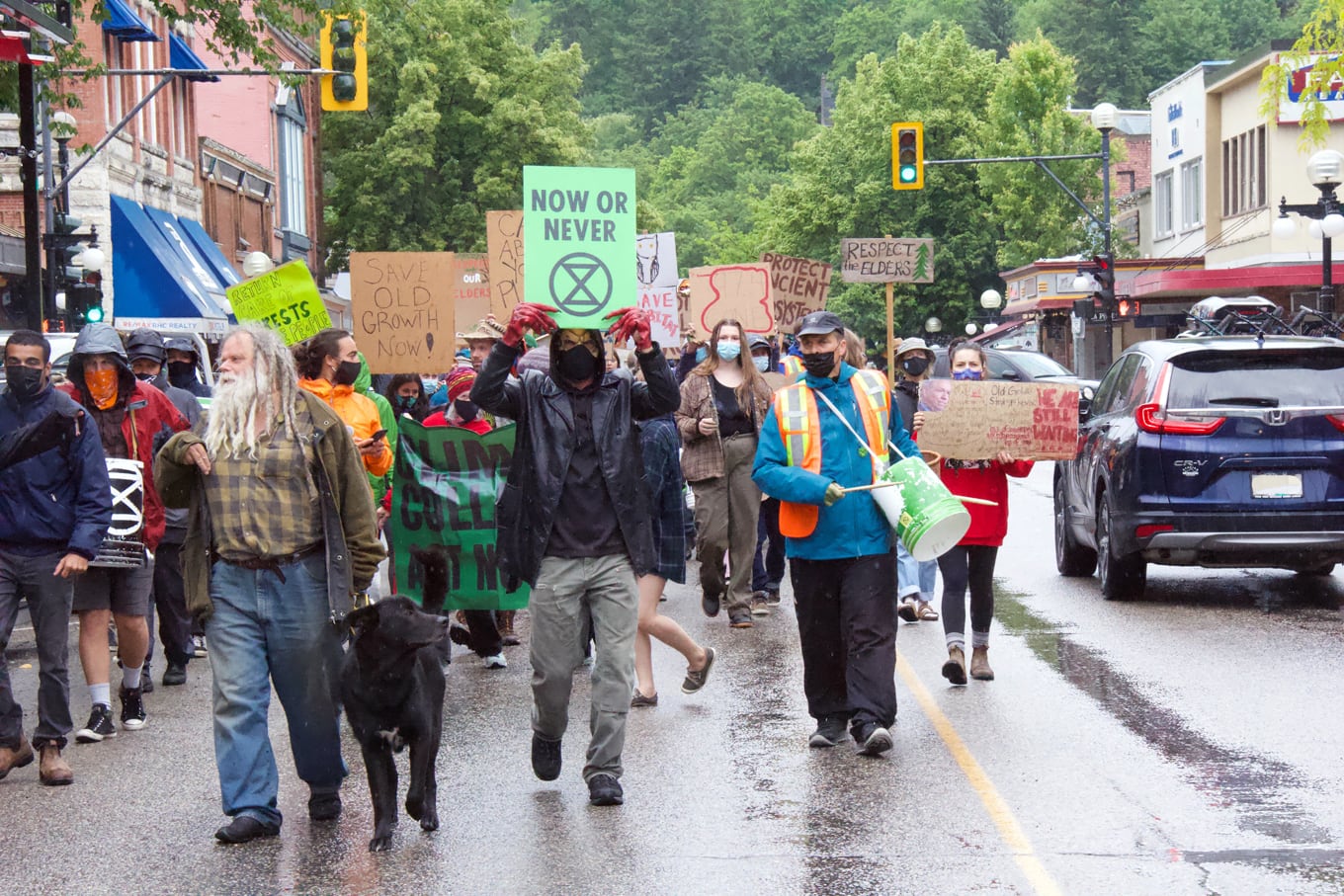 The West Kootenay chapter of Extinction Rebellion kept up its civil disobedience campaign Saturday afternoon outside the office of Nelson-Creston MLA Brittny Anderson, calling on the NDP legislature member to immediately make a statement to end old growth logging in the province.
Approximately 100 protestors organized outside Anderson's office, before marching with signs and noisemakers down Baker Street in Nelson.
"I feel nervous doing this, but I do not want a future under social collapse," said Ginger Osecki, a 14-year-old high school student from Nelson, in a prepared West Kootenay Extinction Rebellion statement prior to the rally.
"The BC Government is leaving me with no other option and is endangering my future."
The Nelson rally, which started at approximately 3 p.m. Saturday, comes a few days after members of West Kootenay Extinction Rebellion occupied both lanes of traffic on Columbia Avenue in Castlegar, restricting people and vehicles from using the major thoroughfare.
The protest, lasting upwards of four hours, resulted in the arrest of four protestors by RCMP officers for refusing to relocate to a safer location.
Police said the four arrested protestors, including one youth, ranged in age from 14 to 34 years.
RCMP said the youth, who was not handcuffed, was released a short time later into the custody of a guardian.
The three other adults were released after being processed at Castlegar RCMP detachment.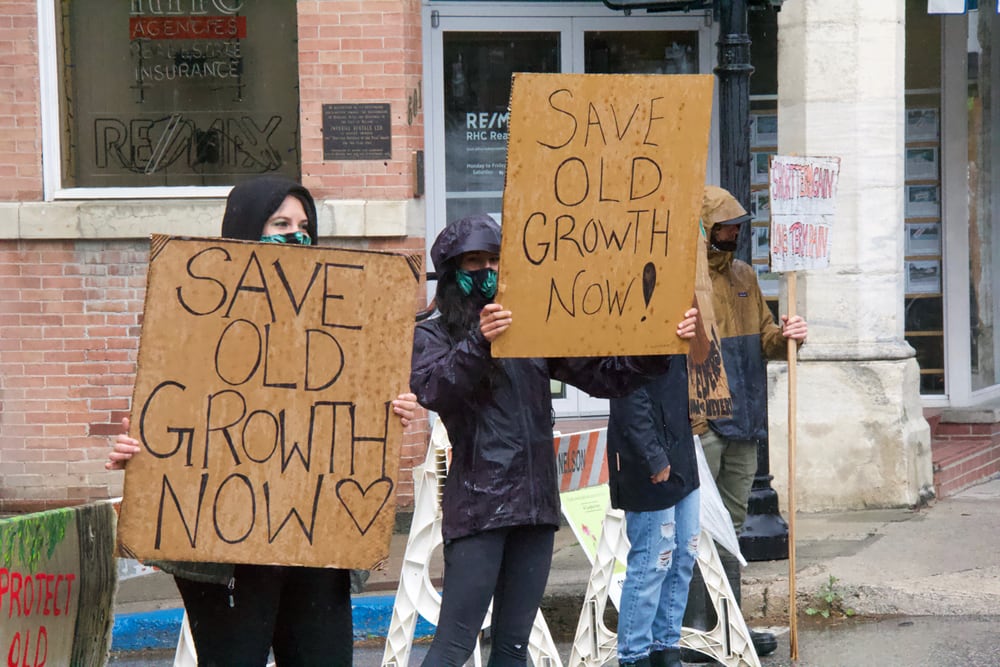 Protestors from Saturday's rally stood at the crosswalk at Josephine and Baker Street in Nelson holding signs supporting the stopping of logging of old-growth forests in B.C. — The Nelson Daily photo
No one was arrested at Saturday's protest, which was hampered by afternoon thunderstorms over Nelson and had the 400 block of Josephine Street closed for most of the day to traffic.
But even inclement weather could not dampen the spirit of the protest group, which remains steadfast in its support to halt the logging of old growth forests in B.C.
"Old growth forests are not a commodity that should be sold so billionaires can profit," Osecki said.
"Old growth must be protected, and real climate action must happen "Now", so my future and the future of generations to come can be protected."
"It is a way past late for action," Osecki added.
"I know my world will be less livable than my parents' world, but perhaps we can make it less horrifying with real action now."
The Nelson rally, where protestors dipped hands in green paint and covered Anderson's door and windows with handprints, continued the support around the province against old-growth logging in the Fairy Creek watershed, on southwest Vancouver Island as well as raise awareness of the need for a real climate action plan in BC and Canada.
Friday, RCMP continued to enforce a BC Supreme Court injunction order near Port Renfrew on Vancouver Island, arresting three people — two for breaching the injunction and one for obstruction.
Since enforcement near Port Renfrew began, RCMP officers have made 170 arrests — nine of whom were previously arrested.
Extinction Rebellion is a global movement that uses peaceful civil disobedience to force government and industry action that is required to avoid the worst impacts of climate and ecological breakdown.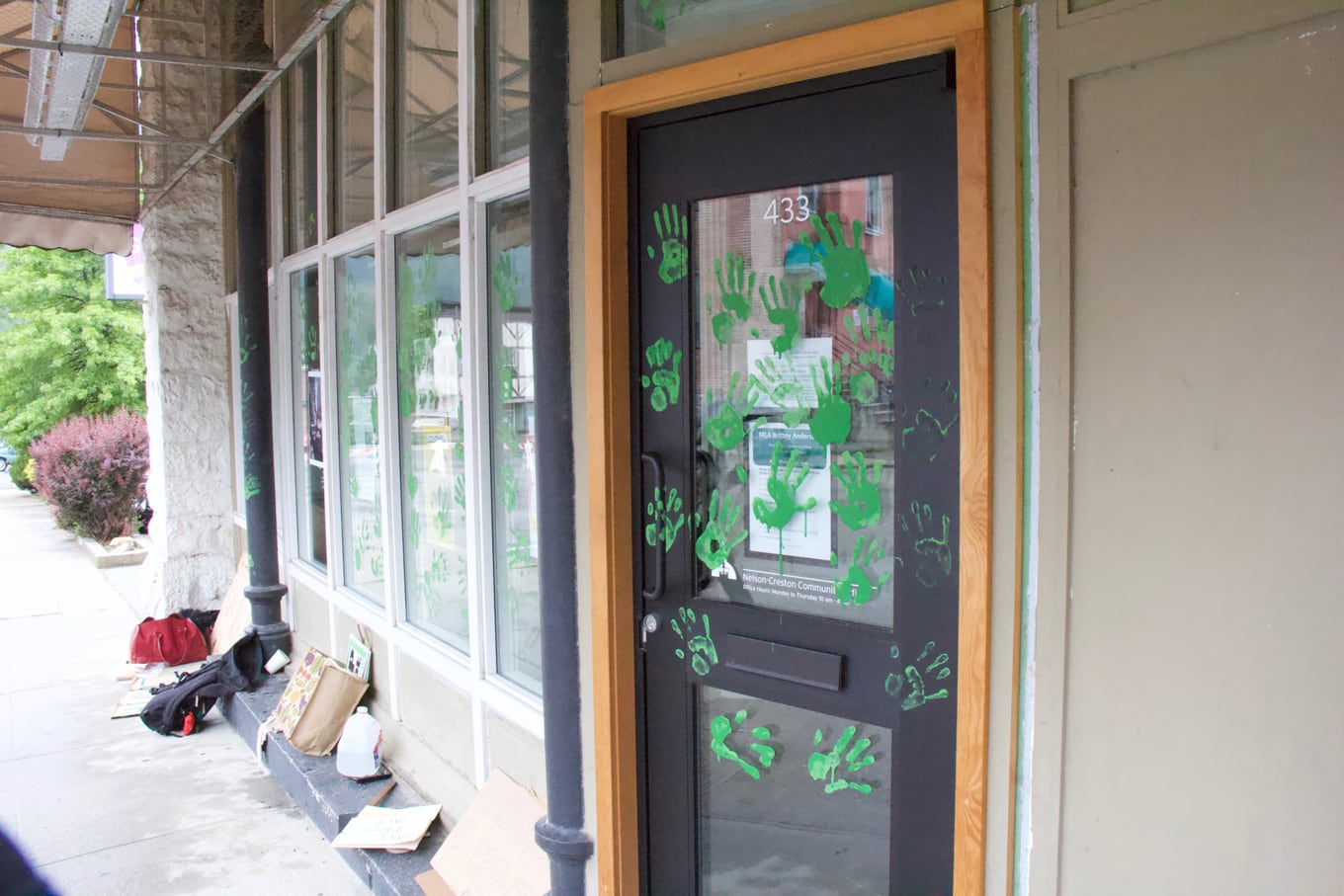 Green painted handprints covered the front door and windows of Brittny Anderson's MLA office in Nelson. — The Nelson Daily