Public input on new transit exchange design points to one option
The city has taken a step toward realizing its new downtown transit exchange.
Arising out of a public engagement campaign, BC Transit and city staff are recommending an option for the 300 block of Victoria Street that includes a mid-block pedestrian connection, space for up to six buses and minimal impacts "on other land uses on the west end of the street."
Echoing the results of a public survey, option C-2 — both sides of the street used with a mid-block crosswalk — was favoured since it offered a balance between the two other options, A and C-1.
"We think this is the option that best meets the stakeholders needs on the block, as well as transit operations," said BC Transit senior transit planner, James Wadsworth.
The campaign dealt with the how the transit exchange could come together, not the relocation of the Nelson Transit Exchange from Ward and Baker to the 300 block of Victoria Street, said Wadsworth.
"Weren't going out to talk to people about where the transit exchange should be, but instead the designs, to try and find a design that worked for transit needs and for the people on the block," he said.
The current location of the transit exchange at the corner of Ward and Baker streets has also proven to no longer be viable, explained city planner Alex Thumm, adding that there was a lack of amenities at the current transit exchange and it could only handle four buses.
The Victoria Street location offers good access, minimal interference with business and good bus routing options, as well as minimal interference with restaurants that have patios, he noted.
That location would also have shelters, bench seating, improved route information and better lighting, bike parking and another public washroom, along with parking for up to seven buses.
"We feel it's a good (location)," Thumm said.
There is there going to be a need for more buses and that's what drives this now, said city chief financial officer McClure.
And with some funding opportunities based on federal and provincial government grants — that would pay up to 80 per cent of the project — and the Downtown Urban Design Strategy as the starting point, the project seems destined to move ahead for early next year, noted McClure.
Wadsworth said once public engagement is completed and there is an agreement on an option to move forward, a business case to access the funding would be made. The city would pay 20 per cent of the project cost.
If the planning moves along as predicted, the city and the province could potentially be tendering construction for the fall of 2022.
A final decision on the location and the design will be made by city council next month, but a final approval by the province would not be made until fall.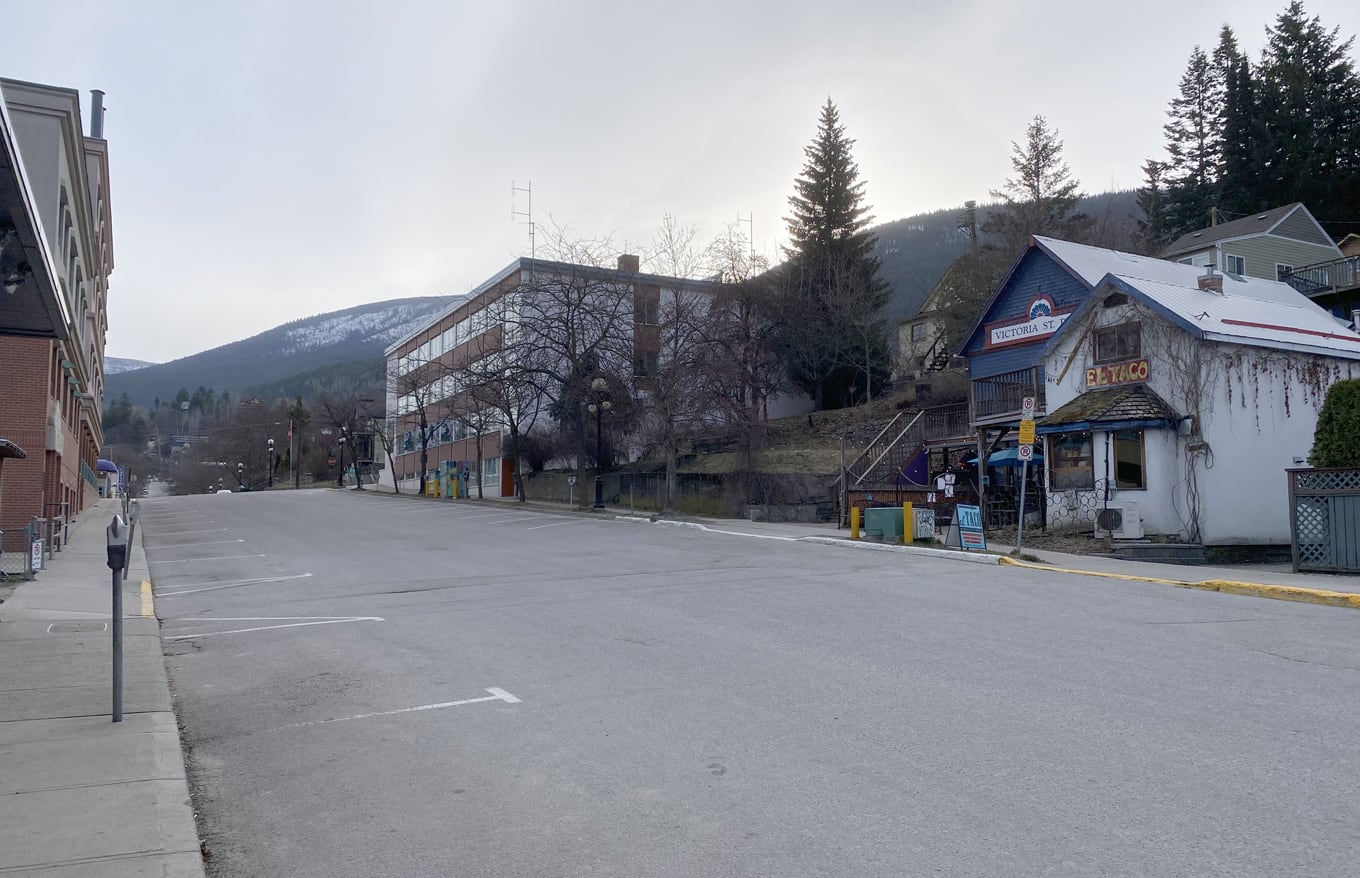 Victoria Street looks vacant now, but that could all change if relocation of the Nelson Transit Exchange from Ward and Baker to the 300 block of Victoria Street goes ahead.
Victoria Street design options
All three conceptual designs include:
• space for at least five standard-sized buses;
• additional shelters, benches, bike racks, paving, and landscaping;
• public washroom;
• transit operator facility (assumed to be within library);
• enhanced pedestrian space, including bulb-outs at corners;
• opportunity for improved signage and customer information;
• electronic next-bus schedule displays plus tactile strips (for visually impaired);
• relocated and additional accessible parking and motorcycle parking;
• includes heritage-style streetlights; and
• alignment with CPTED (Crime Prevention Through Environmental Design) standards.
Source: City of Nelson agenda
Where it comes from, where it goes
The City of Nelson is both the service provider and operator of transit in the city of Nelson.
However, that is not the whole of the story as, in order to do so, the city has to enter into an operating agreement with BC Transit to provide the service.
The city is also part of the West Kootenay Transit system which created a structure to integrate transit throughout the West Kootenay, and do region wide planning.
The WKT committee makes recommendations where necessary and each of the three local governments — the City of Nelson, the RDCK and the RDKB — make final decisions on changes in their service area.
— Source: City of Nelson
A 2011 Nelson Transit Service Review identified constructing a new, larger exchange as a high priority.
That service review originally identified the 400 block of Victoria as the preferred location, noted Thumm, but that location was discarded due to that block being very narrow.
Subsequent BC Transit consultation in 2012 — consisting of open houses and a public survey — found that Victoria Street, near to the library, was one of the top three suggestions for a new transit exchange location.
Victoria Street was recommended by the 2011 service review because it is near Baker Street, there are few existing driveways, and would function well from an operations perspective.
Further, a 2017 Downtown Urban Design Strategy pegged the 300 block of Victoria as the recommended location for a new transit exchange, with a wider street.
Two new bus stops are proposed for Baker Street west of Josephine (one on each side of Baker) in order to continue to provide for pick-up and drop-off on Baker Street.
Results of the survey
145 responses were received to the public survey.
Many who own property or a business on or near the 300 block of Victoria have expressed their opposition to a transit exchange at this location.
If the exchange is moved to this location, they have requested several design changes, most notably:
changes to further preserve street parking;
changes to retain the existing loading zone; and
either remove the public washroom from the design or move it to Stanley Street to be as close to the police station as possible.
"Overall, most area stakeholders prefer option C2 (with two preferring option A). For many, their support of option C2 is on the condition that the mid-block crosswalk be eliminated in order to allow for more street parking," noted Thumm.