Cyclist-activated warning sign to increase safety on B.O.B. says MOTI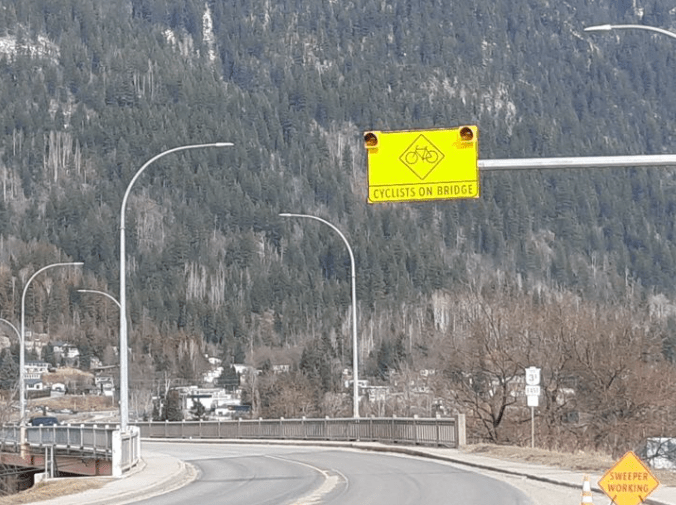 Cyclists travelling across the B.O.B (Big Orange Bridge) for a ride on the North Shore should breathe a sigh of relief after the Ministry of Transportation and Infrastructure recently installed a cyclist-activated warning sign to increase safety.
The project is part of the BC Government's StrongerBC: BC's Economic Recovery Plan that provided $16.7 million towards more than 45 projects that focus on active transportation safety and access improvements on provincial rights of way.  
"These improvements make travel safer and easier for cyclists and pedestrians," said the MOTI in an email statement.
"This new cyclist-activated warning sign was installed last Thursday, March 4 – in order to draw attention to cyclists who are crossing this bridge to boost safety."
Built in 1957 to allow easier, quicker access across Kootenay Lake, active transportation modes were not likely considered in the design for Nelson's bridge for providing passage for cyclists. 
More than six decades later much has changed.
Nelson now has an ever-increasing cycling community who share the limited bridge space with more than 10,000 vehicles per day over the 700 meter span crossing the lake. 
"The ministry has been working with the City of Nelson and the local Nelson Cycling Club over the last year in looking at options to enhance the safety for cyclists on the bridge," the MOTI said.
"As sometimes cyclists don't feel totally comfortable sharing the road with vehicles over this long crossing, (MOTI) have been looking at other solutions to help bring additional safety to this crossing."
The MOTI said it reviewed many options in an attempt to accommodate pedestrians, cyclists and vehicles.  
However, the narrow width of the bridge did not allow for the inclusion of a separate bike lane, as this option would create other safety concerns for all modes of transportation.  
"This new cyclist-activated warning system works by using radar to sense a cyclist's approach to the bridge, which then triggers an activated, flashing warning sign that alerts drivers that a cyclist is on the bridge," the MOTI explained.
"The sign is activated when a cyclist rides through the radar activation area on the right-hand shoulder as they approach the bridge."
The MOTI said yhe lights on the sign remain activated for 126 seconds, which is the time it will take a cyclist travelling 20 km/h to ride from one end of the bridge to the other.
"This new system will improve safety for cyclists and will hopefully further encourage even more people to choose an active transportation mode to commute in and around Nelson," the MOTI said.
It's also an important reminder for drivers to share the road."