Kaslo resident frustrated with lack of customer service over replacement of power pole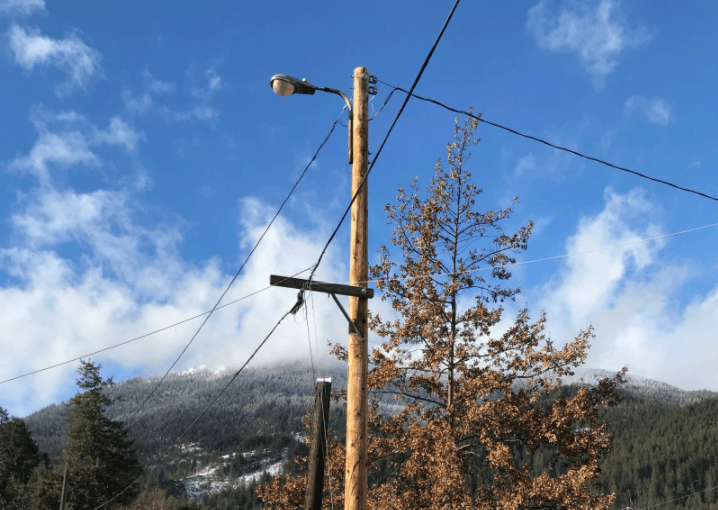 A Kaslo resident is hoping bringing attention to a frustrating light problem in the North Kootenay Village with the local power company will speed up any issues that may occur in the future.
Hayward Kirsh, who lives on Centre Street in Kaslo, said the problem began in April 2019 when an email was sent to the Village of Kaslo and FortisBC requesting that one of the power poles on the street be replaced.
Kirsh said the pole in question, with a streetlight attached for safety in the neighbourhood, was "way beyond its best before date".
"The pole could easily be pushed back in forth, it was rotten, and according to the FortisBC tags nailed to it, was more than a little overdue for an inspection," Kirsh wrote in an email to The Nelson Daily.
"At the same time, we requested, that the older, soul-sucking, abomination of a streetlight that was attached to the pole, be replaced with a newer LED with a shade."
Kirsh thought the issue was in the process of being resolved after receiving a quick reply from FortisBC Customer Relations saying someone from the company would attend to determine if this was a FortisBC pole.
"Shortly afterwards, a FortisBC Operations Supervisor came out," Kirsh explained.
"Initially, he vehemently denied that it was a FortisBC pole."
"In our naiveté, we had assumed with FortisBC tags and FortisBC wires, it would be a Fortis pole," Kirsh added.
"Not so, said he. Although he eventually, condescendingly agreed that the pole would eventually be replaced, even though it was in good shape."
Kirsh said about two months later, in June 2019, Kaslo experienced one of those freakish windstorms, that moved the pole back and forth, including the electrical wires.
"All in all, pretty wild looking," he said.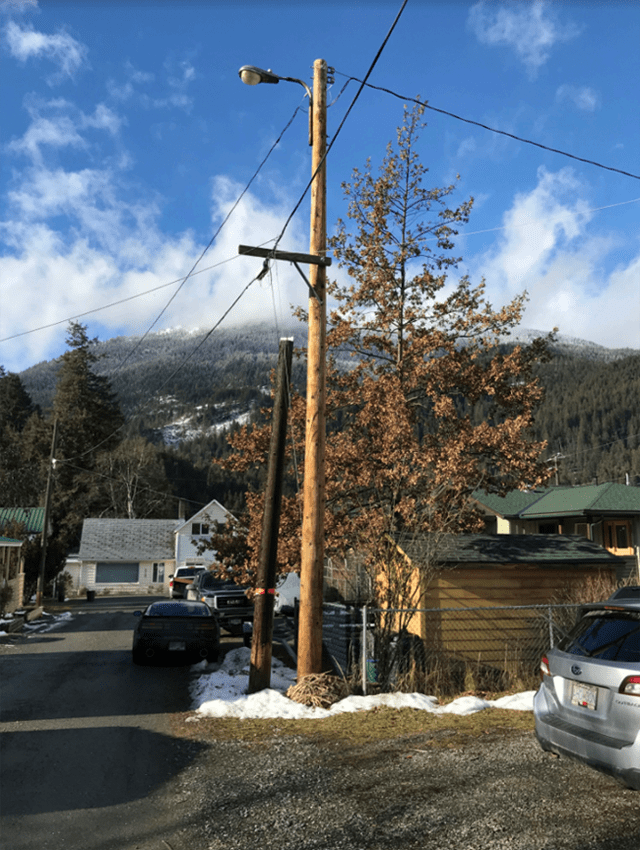 A full view of the two — old and new — power poles on Centre Street in Kaslo. — Submitted
After the storm, Kirsh once again contacted FortisBC Customer Relations, but received no response.
Days later, he contacted Fortis Customer Service, but, again, received no response.
Again, after several days, Kirsh contacted the British Columbia Utilities Commission (BCUC).
This time, Kirsh received a response.
"Within days, the Operations Supervisor showed up with a crew," Kirsh said.
"He even took time from his busy schedule to explain to my wife and another neighbour, both senior citizens and FortisBC ratepayers, that we should not have contacted the BCUC."
Kirsh said the FortisBC Operations Supervisor went on to explain that they had run out of the new LED bulbs and would have to reinstall the older streetlight, the one that no one had wanted in the first place.
Kirsh said work crews cut off old pole approximately two thirds from the base, and left it leaning in its hole.
"(After two years) the old streetlight was placed on the new pole, about 15 feet higher than previously, so it had an even greater negative (light) impact on the neighbourhood," Kirsh said.
"And as the last service technician was departing, he informed us that we would have to arrange to have the pole removed at our expense."
The Nelson Daily reached out to FortisBC for comment.
The company spokesperson said safety is its top priority and encourages the public to reach out if they see a damaged or compromised structure.
"When we're alerted to a situation like this, we investigate the issue, including a visual inspection, to assess the risk and schedule to work accordingly," FortisBC said.
"In this case, we also had to establish if the structure belonged to us – there are agreements in place share structures with other utilities, and the records for this legacy structure were unclear."
FortisBC said the existing streetlight, which belongs to the Village of Kaslo, was put on the new structure in interim.
"It was placed higher and on a taller structure, to maintain safe clearance between the streetlight and the lines," FortisBC said.
"The Village of Kaslo is doing a great job changing their lights to dark-sky compliant LEDs, and we're in the process of finalizing a plan for the final upgrades, which would include this streetlight."
"While our crews are onsite removing the old structure, they will also try to reduce the impact the existing streetlight," FortisBC added.
Kirsh said Village of Kaslo spokesperson said CAO Ian Dunlop has been in contact with FortisBC and was informed the company will remove the derelict pole and replace the current light with an LED bulb.
"We appreciate that doing our due diligence and making sure all the necessary steps are followed can sometimes takes longer than people may expect," FortisBC said.
"That said, we want to make sure people continue to reach out and let us know if they suspect any of our infrastructure is damaged or comprised."
Needless to say, Kirsh is still disappointed it took almost two years of wrangling, and phone calls, to solve this problem.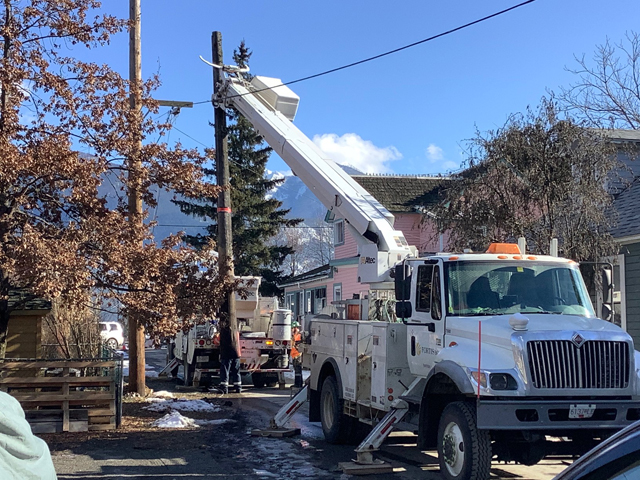 Editors Note: FortisBC has since arrived on scene at Centre Street in Kaslo to remove the old power pole, as well as bringing the light down three feet on the new pole to assist the lighting issue.