Province decides to extend COVID-19 restrictions until February 5
On the day the government announced an increase in COVID-19 new cases in BC — 761 — and Interior Health — 96 — Provincial health officer Dr. Bonnie Henry added that a host of social restrictions put into place last year to slow the spread of COVID-19 in B.C. have been extended once again.
Those restrictions, which prohibits gatherings between people who don't live in the same household, with minor exceptions for those who live alone, will now be in place until at least February 5, 2021.
"Now is our time to stay the course," Henry said during the announcement. "We know what we need to do to bend that curve back down. We have been successful in doing that prior to this winter break and we need to do that again."
Dr. Henry said the extension applies to all of the current public health officer orders, including bans on social gatherings in private homes and all events at public and private venues, as well as restrictions on sports and fitness activities.
During the media briefing, Dr. Henry did not directly address the prohibition on in-person services at churches and other houses of worship, though that ban is included in the orders being extended.
Dr. Henry thought the orders could be extended longer into 2021, depending on the trend in new cases over the next few weeks.
"We are closely monitoring our progress and if further action is required, we will take that," Dr. Henry said.
"If we see positive trends in our cases and our hospitalizations and we see a lessening in our impacts, we will monitor that as well. Right now, we need to hold the line."
Interior Health reported 96 new COVID-19 cases overnight for a total of 4.406.
There are 822 cases active and on isolation with 33 people in hospital and eight in ICU.
The total number of deaths increased to 35 after MacKinney Place in Oliver reported a death.
"Today, Interior Health is reporting an additional death at McKinney Place in Oliver, our 35th of this challenging pandemic," said Susan Brown, president and CEO, Interior Health.
"It is important for us to remember that each death impacts families, friends and entire communities."
"With increased COVID-19 activity throughout Interior Health, it remains critically important for all of us to follow public health orders and guidance to protect ourselves and those we love," Brown added.
Thursday, Dr. Henry presented a change to daily reporting with provincial total of new cases by health authority now coming directly from a single lab system automated database in B.C.

Interior Health said this reduces the lag time in the current system that sees the lab cases provided to the health authorities who then provide the updated numbers to BCCDC for public reporting.
Daily data will reflect 24-hour periods from midnight to midnight.

Interior Health said this approach will be more streamlined and simpler and will reduce the risk of errors in transcribing the data at the various points between the lab, health authorities and BCCDC.

Interior Health said this new reporting will also be reflected in the rolling averages that provide a better sense of immediate trends.

What does not change is that every single case is still counted and followed up on by public health in Interior Health.
Update on outbreaks:
Sunnybank long-term care in Oliver has six cases: two residents and four staff.
Creekside Landing long-term care in Vernon has 13 cases: 10 residents and three staff
Williams Lake Seniors Village has two cases: one resident and one staff.
Noric House long-term care in Vernon has 20 cases: 18 residents and two staff
Heritage Square long-term care in Vernon has 31 cases: 21 residents and 10 staff, with two deaths connected to this outbreak.
Heritage Retirement Residence in West Kelowna has 42 cases: 37 residents and five staff, with one death connected to this outbreak.
Teck mining operations remains at 16 IH cases linked to the outbreak.
McKinney Place long-term care in Oliver has 77 cases: 54 residents and 23 staff, with 14 deaths connected to this outbreak.
Village by the Station long-term care in Penticton has nine cases: five residents and four staff, with one death connected to this outbreak.
Mountainview Village long-term care in Kelowna has 16 cases: eight residents and eight staff, with two deaths connected to this outbreak.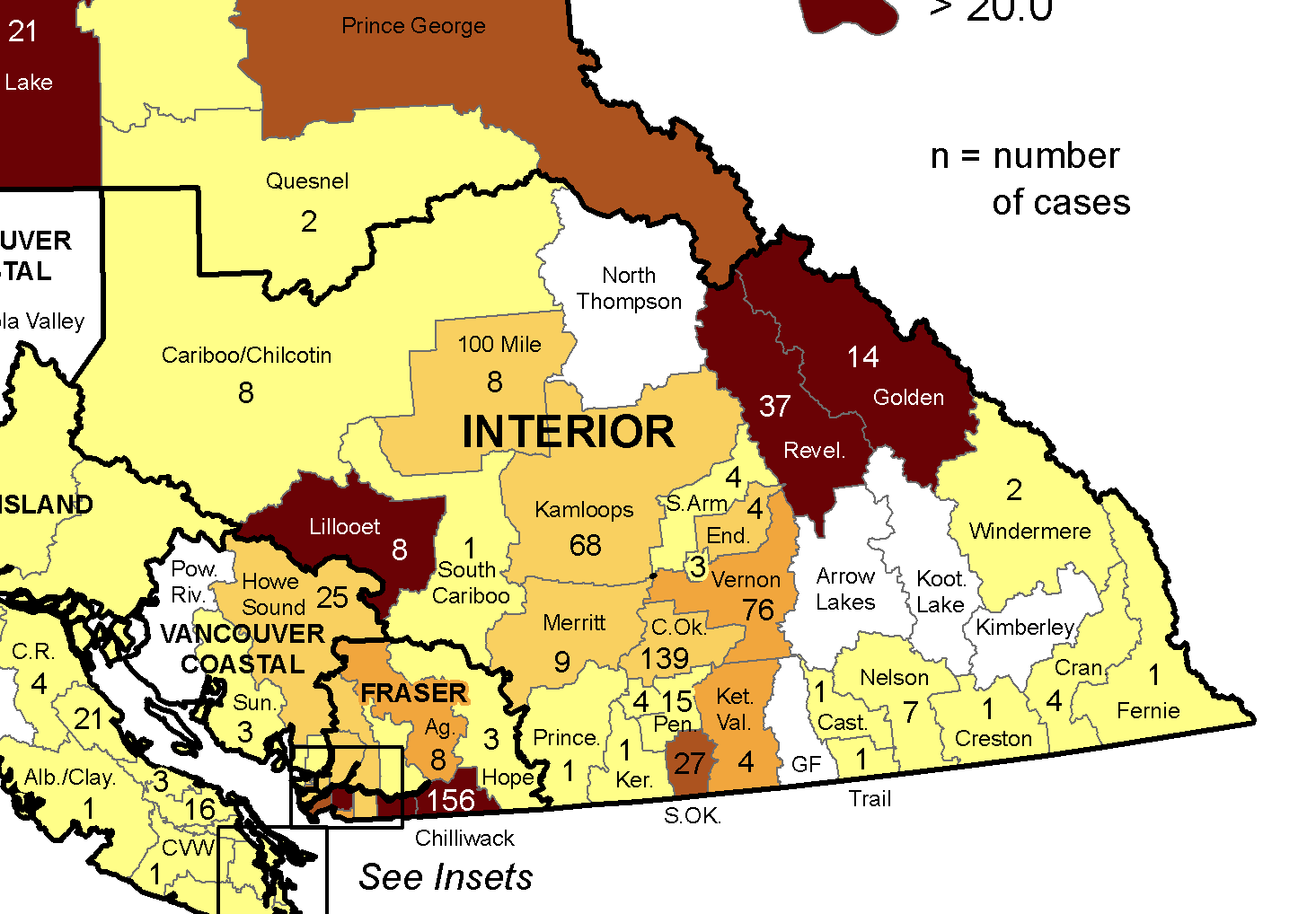 The BCCDC geographical distribution of COVID-19 by local health area of case residence ending January 2, 2021, shows the Nelson area leading the Kootenay/Boundary case count with seven. — BCCDC graphic