Southeast Fire Centre to rescind open burning prohibitions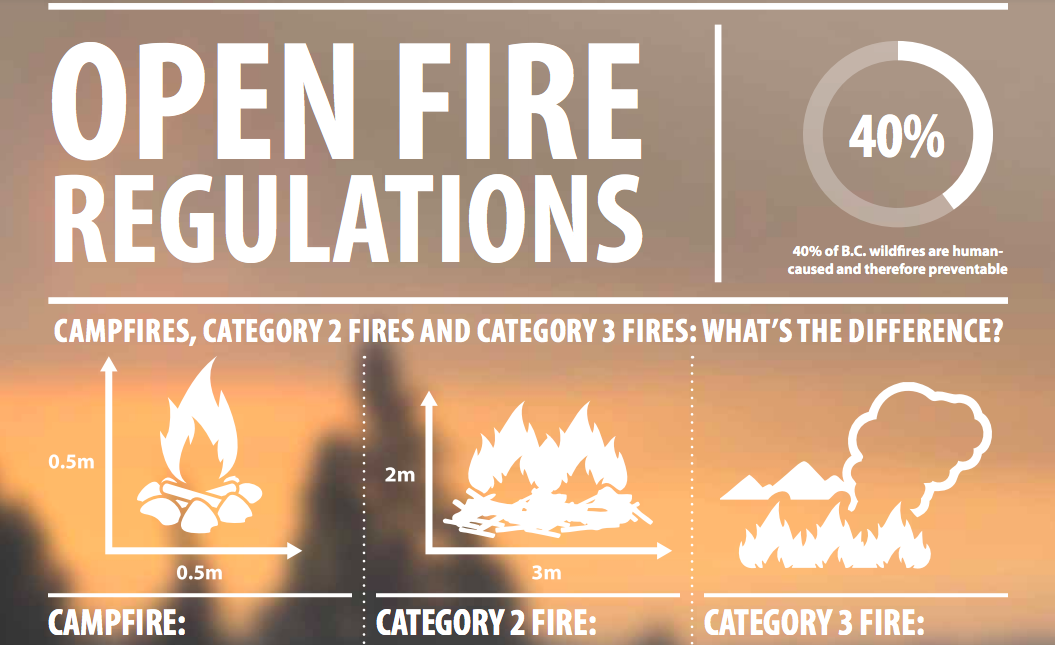 The BC Wildfire Service said in a media release, fffective at noon on Friday, Oct. 9, 2020, Category 3 open burning, as defined in the Wildfire Regulation, will once again be permitted throughout the Southeast Fire Centre's jurisdiction due to a decreased wildfire risk.
The BC Wildfire Service said campfires and smaller Category 2 open burning is already allowed within the same jurisdiction. Local governments may still have burning restrictions in place, so people should check with local authorities before lighting any fire of any size.
"Although recent cooler and wetter weather has reduced the wildfire risk in the region, members of the public are urged to undertake any open burning responsibly to reduce the likelihood of starting a wildfire,"  BC Wildfire Service said
Category 3 open burning:
Anyone planning to conduct a Category 3 burn must obtain a burn registration number ahead of time (at no charge) by calling 1 888 797-1717. Burn registration numbers are entered in the Open Fire Tracking System, which allows the BC Wildfire Service to track open burning activity throughout B.C.
All open burning must comply with the Wildfire Act, Environmental Management Act and Open Burning Smoke Control Regulation. Anyone conducting an open burn must check local venting conditions prior to lighting a fire, understand what smoke sensitivity zone the burn site is in, and meet all other obligations associated with these regulations.
•  Venting index and smoke sensitivity zone information is available by calling 1 888 281-2992 or visiting: http://www.env.gov.bc.ca/epd/epdpa/venting/
•   Learn more about regulations that apply to Category 3 open fires: http://ow.ly/dV2B50BIiZk
Anyone found in contravention of an open burning prohibition may be issued a violation ticket for $1,150, required to pay an administrative penalty of up to $100,000 or, if convicted in court, fined up to $100,000 and/or sentenced to up to one year in jail.
If the contravention causes or contributes to a wildfire, the person responsible may be ordered to pay all firefighting and associated costs, as well as the value of the resources damaged or destroyed by the wildfire.
The Southeast Fire Centre extends from the U.S. border in the south to Mica Dam in the north, and from the Okanagan Highlands and Monashee Mountains in the west to the B.C.-Alberta border in the east.
The BC Wildfire Service thanks the public for its continued support, vigilance and co-operation during the fire season.
To report a wildfire, unattended campfire or open burning violation, call 1 800 663-5555 toll-free or *5555 on a cellphone. For the latest information on current wildfire activity, burning restrictions, road closures and air quality advisories, visit: www.bcwildfire.ca