Driver rescued after vehicle plunges off Shelter Bay Ferry terminal loading ramp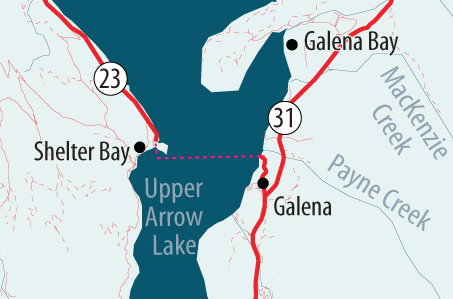 RCMP said in a media release that the female driver of a Ford Fusion vehicle was pulled from the water of Arrow Lakes by Upper Arrow Lakes Ferry workers on board a rescue boat early Tuesday morning.
RCMP said the rescue happened on October 13, 2020 at approximately 12:17 a.m. after that crews aboard the Upper Arrow Lake Ferry spotted the woman in the water, waving for help at the Shelter Bay Ferry Terminal.
The Shelter Bay Ferry Terminal is located south of Revelstoke along Highway 23.
RCMP Cpl. Jesse O'Donaghey said further investigation revealed that the woman had driven her passenger vehicle off the end of the loading ramp.
"Investigators believe that the woman was alone inside her Ford Fusion, which was discovered fully submerged below the ramp," Cpl. O'Donaghey said.
"The location of the motor vehicle prevented the ferry from being able to safely dock and load and unload passengers."
Police said although RCMP do not believe that any intoxicating substances were involved in this incident, front line officers ensured that the 51-year-old Elk Valley woman was fully examined to ensure her physical and mental well-being.
RCMP said emergency first responders attended the incident, adding a commercial dive team and tow company attended the crash site earlier this morning to pull the vehicle from the lake.
The investigation remains ongoing at this time, being led by Revelstoke RCMP.
If you witnessed this incident and have not yet spoken to police you are asked to call the Revelstoke RCMP at 250-837-5255.