Future of Kootenay cannabis looks to regional processing facility: CBTI manager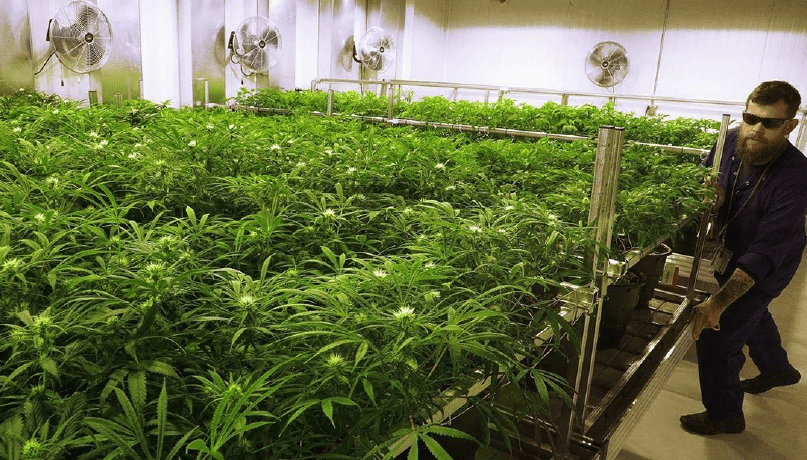 Nelson cannabis producers are looking to weed out the competition and nip potential copycat products in the bud by transitioning to legally processing the time-tested Kootenay plant.
For years the Kootenay brand of cannabis has made a name for itself through the high calibre, skillful and prolific work of an underground economy, said the Cannabis Business Transition Initiative (CBTI) program manager, Paul Kelly.
The underground cannabis market in the Kootenay region was well established before the nation legalized non-medical cannabis (October, 2018).
"I think everyone knows there is a lot of weed grown in the West Kootenay and it is pretty much what Nelson is known for beyond the streets of Nelson," Kelly said this week in a presentation to city council at its committee-of-the-whole meeting on the Community Futures Central Kootenay-run program.
"It's a brand, really, and it's known worldwide."
But it's in danger of being farmed out. The Kootenay brand does have cachet worldwide, Kelly admitted, but what needs to be done to protect that cachet from outside interests is to create processing infrastructure in the region to gather, package and sell what is grown in the region.
"There are a lot of processors circling, wanting to put a Kootenay brand on product that hasn't been grown or processed in the Kootenays," he said.
"So we need to address that issue and come up with a regional (plan) and figure out how to lock that down and protect the financial interest and the intellectual property of the growers in the region."
A cannabis processing co-operative is being proposed, with a group of people working with CBTI to look at a possible governance structure to move it forward.
When the CBTI program was first set up last year the realization was made that people needed support beyond just obtaining a licence to grow, Kelly pointed out. People needed help on staying in compliance and keeping their licence, as well as pursuing places to process the plants.
With over $675,000 in funding from the province for the program, CBTI is attempting to help people transition from the illegal market to laying it all out above board for the government and reporting on a monthly basis.
"So it's a big cultural shift for most people, and that's really where the work is," said Kelly.
There are an estimated 2,500 small-scale cannabis producers in the region, a number that is significant when the economic impact of that industry is considered.
Out of the 404 licences issued to date in Canada, 27 businesses are actively supported in the Central Kootenay, with six in the region around Nelson, and likely eight by the end of the month.
Myth: Previous production was "illegal."
However, 2,000 of the estimated 2,500 local production operations were actually legal prior to cannabis "legalization." These businesses were registered with Health Canada for medical cannabis production.
—    Source: Community Futures
Kelly said the effect of cannabis on the local economy is being quantified. Tracey Harvey, a PhD research student at the University of Guelph, is conducting a study on the social and economic impact the legalization of recreational cannabis will have on rural British Columbia.
"Early indications are that 20 to 30 per cent of the local economy in the Central
Kootenays is tied to the cannabis trade," said Kelly.
That would make it the biggest single industry contributor to the local economy, he noted.
Coun. Jesse Woodward asked Kelly if he saw the Kootenay cannabis as a brand that grows to a North American market, or a Canadian market, or a local market.
"The challenge of this area is shipping things out, and it's just that, a challenge. Lots of businesses do well online," he said.
"Fortunately, the product is extremely light and ships well, and our producers are quite experienced shipping across the borders," Kelly said with a smile.
Woodward wondered how Kootenay cannabis could conquer a new customer base in the post-legalization, big business era.
"If anything, I see it going back to what evolved in the absence of regulation and it was probably the closest thing to pure capitalism that there was," said Kelly.
The growers were interfacing with the retailers, the retailers knew who they were and could tell that story to the end consumer, he explained. It was a lucrative business for a time.
But now, according to the government's map, to separate the grower from the processor and the retailer to the customer, that supply chain, is not a recipe for success, Kelly said. New customers — whom the current system caters to — might dabble but they won't use as much cannabis as medical customers.
"The local growers believe in organic (cannabis), they believe in the outdoor; the medical consumer appreciates that stuff, and I think you are going to see a return to that and, hopefully, it's through the legal channel because, if not, it's just going to stay through the illicit channel," Kelly said.
But people don't want to grow illicitly anymore, he added, they are coming into the Community Futures office looking for help, for direction on growing legally.
"So if we can direct that regional sales model that keeps the grower connected with the patient, that's what we want to see. And, really, it's best for the community because none of those profits are leaving the community," Kelly said.
The government gets a piece but keep the log-standing relationship and the quality of Kootenay cannabis stays intact, he added.
Mayor John Dooley asked about the rise all of the high-end cannabis companies and what happened to them, and how a Kootenay cannabis could compete.
The high end companies were built for shareholders, infrastructure and marketing, but at the end of the day they didn't have anything that people really wanted to buy, Kelly said.
"And that's what it's all about. In the Kootenay we have something people want to buy, we just need to navigate the licensing and regulations to get it there," he said.
"Locally, there is an acknowledgment of what the plants can do, there is local expertise, and local cultivation expertise, but we will get into it (more) once you see the bump and dump of the major market companies."
Cannabis Act basics
HC and CRA cannabis licenses required to grow, package/process and sell;
higher build-out costs for indoor and outdoor facilities due to security and sanitation requirements (GPP/GMP Facilities);
producers held to higher production standards for consumer safety — strict input controls and product testing;
inventory volume closely controlled for public safety "seed to sale" (local technology startup business Certicraft seeking to simplify this for growers);
distribution and retail regulations downloaded to the provinces — variable;
municipal control over physical locations — variance between jurisdictions;
excise "sin" tax of $1/gram gets split 75 per cent to province 25 per cent to federal government.
— Source: Community Futures