Boundary rivers peaked, evacuation orders reassessed Tuesday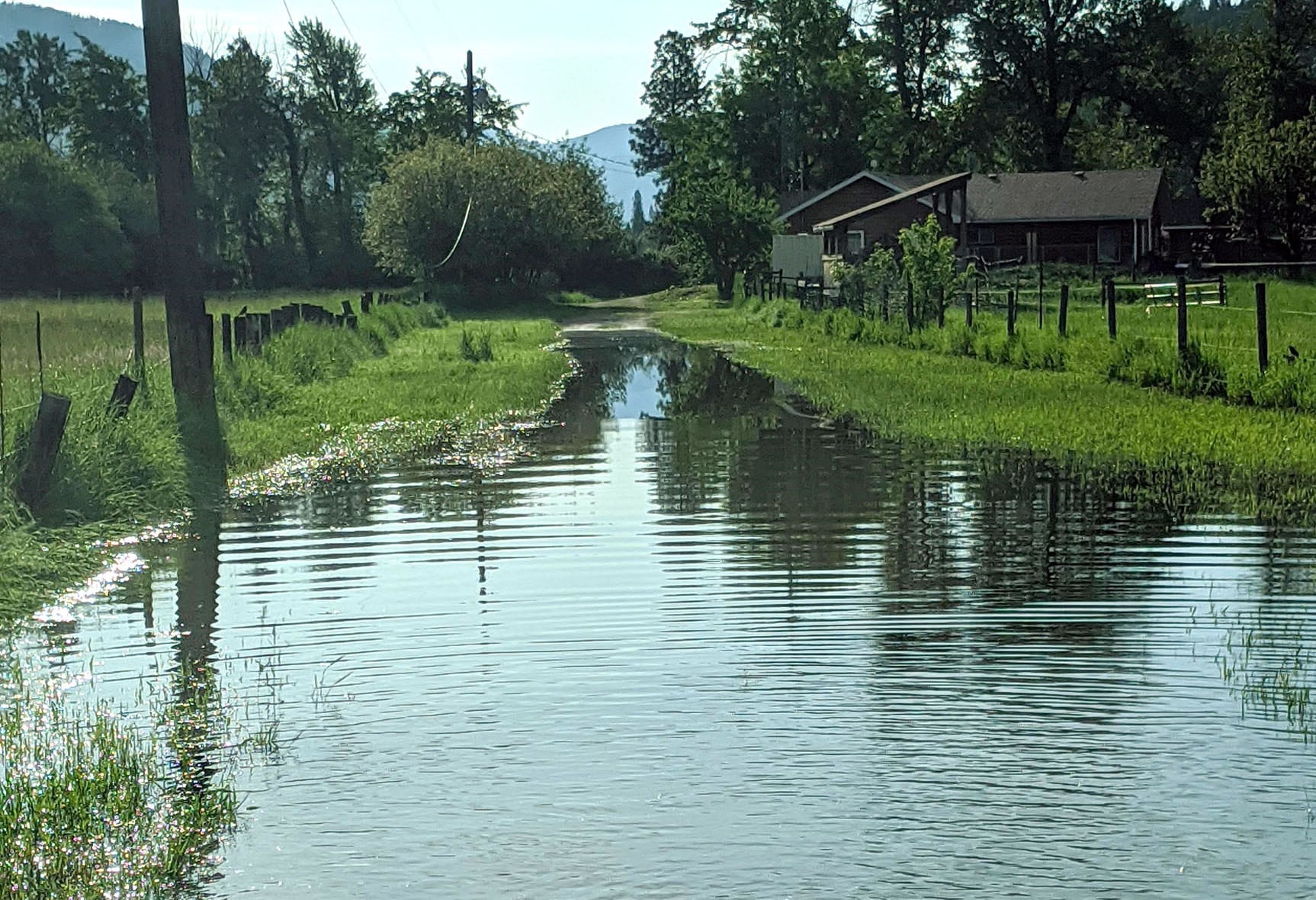 The Regional District of Kootenay Boundary Emergency Operations Centre said in a media release Tuesday, that the Boundary rivers peaked and evacuation orders reassessed.
Rivers have peaked for now
• All river gauges show the Kettle River crested overnight with levels dropping at a rate faster than the rise.
• Weather forecasts call for dry conditions this week with some showers on the weekend; this bodes well for local residents who can expect river levels to stabilize at seasonal norms until more rain arrives.
• The BC River Forecast Centre Flood Warning for the Boundary area of the Regional District of Kootenay Boundary remains in place and the RDKB will receive an update from the BC River Forecast Centre this afternoon.
• The RDKB continues to monitor all creeks and rivers and track BC River Forecast Centre and Environment Canada weather information. The RDKB Emergency Operations Centre is activated to Level 3 and is prepared for any ongoing emergency response that may be required.
Evacuation orders under review
• The Regional District of Emergency Operations Centre (EOC) is reassessing156 evacuation orders for properties in the Grand Forks area today to try to get as many people back into their homes as possible.
• Some properties are likely to remain under evacuation order due to flood damage such as erosion or lack of safe access.
• About nine evacuees received Emergency Support Services (ESS) at the Jack Goddard Memorial Arena in Grand Forks on the evening of June 1 to find temporary accommodation or other support until they can return to their homes.
• Evacuees were encouraged to stay with friends or family if possible. COVID-19 protocols were in place to ensure physical distancing and proper health and hygiene practices.
• The RDKB reception centre set up at the arena is now closed.
• A total of 156 properties are still on evacuation order affecting about 300 people in the Grand Forks area and about 1000 properties remain on evacuation alert affecting a further 2,000 people across the Boundary area.
• Some of these properties have multiple homes – which may be trailers, tow-homes or houses – on site and some are vacant. Evacuation orders apply to properties and the RDKB has adjusted numbers to reflect this.
Flood damage assessment today
• Flood damage assessments are now underway to determine which areas are safe for residents to return home and which areas remain hazardous due to erosion, floodwater damage to homes or continued flooding as the Kettle River gradually recedes.
• Assessors will take photos and video to document and report on identified high-risk properties where evacuation orders could remain in place.
Gradual demobilization of flood protection works
• Pending weather and river forecasts today and in coming days, Grand Forks area residents will see a phased demobilization of Tiger dams and removal of the 68th street berm in the City of Grand Forks this week.
• The RDKB Emergency Operations Center will review each phase of demobilization along with weather forecasts and make decisions based on keeping residents safe and infrastructure out of harm's way.
More information and public updates
• An EOC call centre has been set up for Boundary residents and is staffed from 8 a.m. to 4 p.m. daily. The toll-free number for the call centre is 1-888-747-9119.
• The RDKB warns everyone to stay away from the edges of watercourses and report any erosion or flooding to the Provincial Emergency Coordination Centre at 1-800-663-3456.
• For more information about snow and river levels as well as how to prepare for the 2020 freshet, visit emergency.rdkb.com. To register for the RDKB Emergency Alerting System go to https://ca.voyent-alert.com/vras/user-registration.html.
• The RDKB will continue to update the public as new information is available.