Saints take to computer screens to present season-ending awards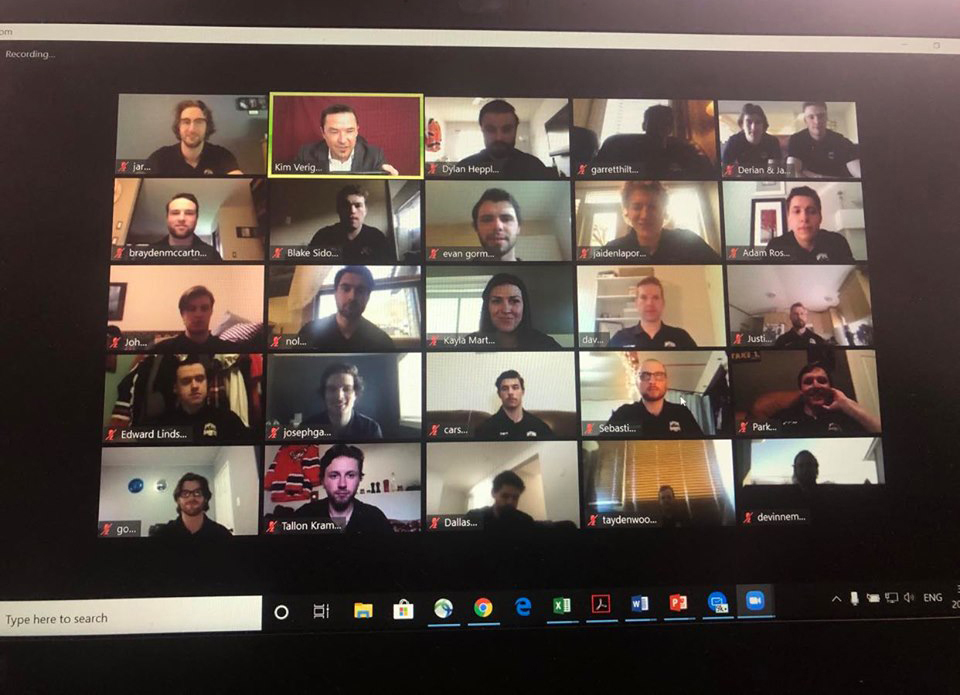 The Selkirk College Saints put the official wraps on the 2019-2020 British Columbia Intercollegiate Hockey League (BCIHL) season at the team's annual awards evening using tools that have become a symbol for current times.
Gathering in their homes and connected using Zoom videoconferencing, players and coaches recognized outstanding contributions in a hockey season that came to a screeching halt due to the COVID-19 pandemic.
"Obviously it's not the way we could have ever imagined a season ending," says Saints' head coach Dave Hnatiuk.
"Though we may not want to remember how the season was snatched away from us as we prepared for the first game of the playoffs, it was important to highlight all the commitment and passion these players provided the program over the course of six months. We had some outstanding individual efforts both on the ice and off. It was nice to gather together as a group, even if it was via our computer screens."
Team awards for play on the ice included: most valuable player Jaiden Laporte, top scorer Dylan Heppler, rookie of the year and defenceman of the year Tristen Cross, unsung hero Tayden Woods, and coaches award Nolan Percival. Cross was also named a BCIHL first team all-star and Laporte and goaltender Tallon Kramer were BCIHL second team all-stars.
For commitment off the ice, Kramer, Heppler and captain Parker Wakaruk received scholastic achievement awards. Three community service awards were presented to Laporte, Jared Breitkreuz and Evan Gorman, who put in the most volunteer hours over the course of the season.
Department awards honoured players in a number of ways:
Athletic Department Award – Presented to a high ranking student who participates in athletics and sports and is active in athletic fundraising and other athletic department activities. Winners were Kramer and Heppler.
Jim Snook Award – Presented to a student dedicated to college athletics. The recipient possesses a good sense of fair play, contributes to positive team spirit and morale, and is dedicated to sport and team objectives. Winner was Percival.
PE Development Award – Presented to a student who demonstrates practical work with community agencies in sport or recreation. Winners were Edward Lindsey and Kramer.
Mal Stelck Award – Presented to a student athlete and member of the Selkirk College Saints hockey team who has first and foremost demonstrated exemplary leadership as a representative of the college and community. Winners were Cross and Percival.
The Saints finished fourth in the BCIHL standings and were in Langley on March 12 preparing to start the first round of the playoffs against the Trinity Western University Spartans when they received news that all games were suspended due to the COVID-19 pandemic. Like sports leagues at all levels, the BCIHL season was canceled without awarding a champion.
Saints' coaching staff are now in the process of signing commitments for the 2020-2021 season as they replace those players lost to graduation that include Kramer, Lindsey, Wakaruk, Heppler, Kadrian Klimchuk and Devin Nemes. The Saints training camp is scheduled to open at the end of August and will be contingent upon guidelines associated with the COVID-19 pandemic.