Emergency Operations Centre - COVID-19 Report #14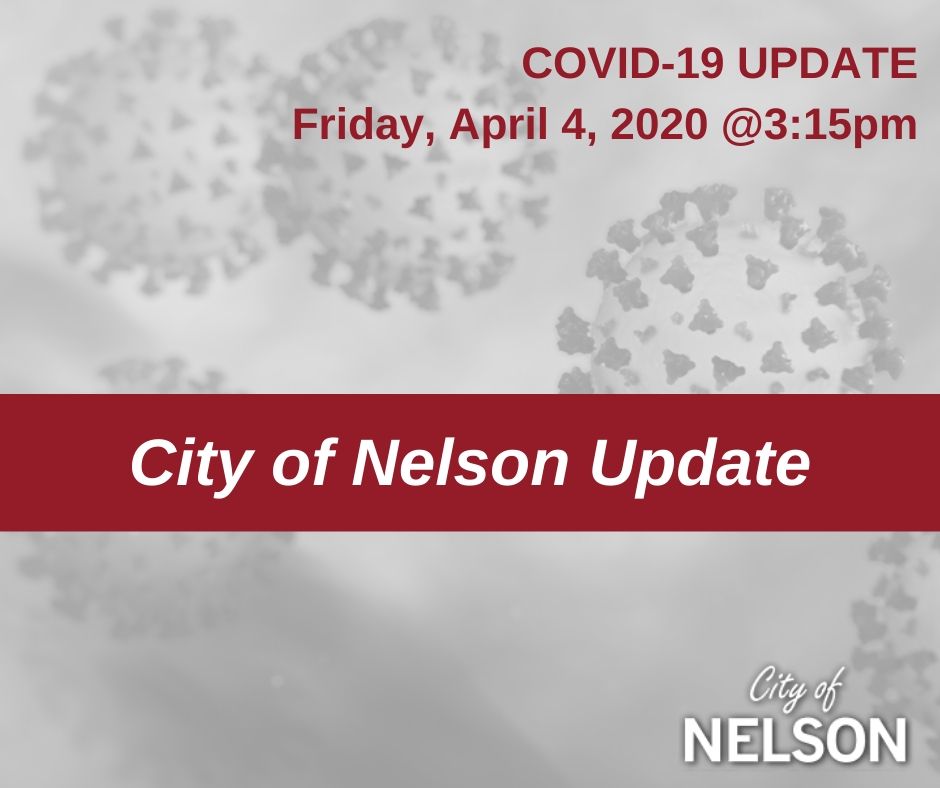 Submitted by City of Nelson, Emergency Operations Centre
Nelson City Council and City staff would like to give a big shout-out to all those who are working hard at our grocery stores, pharmacies, hardware outlets, trades and construction, gas stations, take-out restaurants and other businesses providing valuable services.
You are the unsung heroes, stepping up during this challenging time to ensure our community has the essentials we all need.
THANK YOU!!!!
As we enter the weekend, we must remain vigilant in maintaining physical distancing from non-household members, frequent and thorough handwashing, and staying home. As a community, we need to be 100% committed to reducing the spread of this virus. 
It is the only way we will flatten the curve, which will prevent overwhelmed hospitals, like we have seen in other countries, and ultimately save lives.
If you are planning a trip, cancel it.
With a long weekend fast approaching, the Provincial Health Officer is urging all British Columbians to stay home and not travel. All non-essential travel, including travel within B.C. should be postponed.
It is important that we all stay in our own communities, to reduce the potential for spread and ensure smaller communities' health care facilities, grocery stores, and other services are not overwhelmed.
For those returning from outside of the country, the Quarantine Act mandates that you go straight home, and do not stop for any reason. Travellers must rely on family, friends and other community members to assist in purchasing supplies and groceries upon their return.
The BC Government has provided the following information today:
COVID-19 Cases:             
Total cases in BC to date: 1174 –  in Vancouver Coastal Health 541;  in Fraser Health 412; in Island Health 74;  in Interior Health 126;  in Northern Health 21
 Total recovered cases in BC: 641
Total new cases in BC: 53
Total fatalities in BC to date: 35
 Total cases in Canada to date: 12421
 Total fatalities in Canada to date: 212
_______________________________________________________________________________
Reminders:
To help provide important information to our community, the City of Nelson has developed a dedicated webpage nelson.ca/covid19 that will be updated frequently as new information becomes available.  Please sign-up for 'City News' on NotifyMe to receive automatic updates from the City via text or email.
The City of Nelson relies on Interior Health, BC Public Health, and the Federal Government for information related to the virus itself. If you believe you are exhibiting symptoms of COVID-19, please contact your physician, or call the COVID-19 telephone line at 1-888-COVID19, to be assessed or call the testing clinic hotline at (250) 551-7500 to be triaged for testing.  
Symptoms of COVID-19 include coughing, fever, sore throat, and difficulty breathing.
These symptoms may not present themselves for up to 14 days, but you may be a carrier of the virus; therefore it is important to follow the guidelines set out by the health experts.  
To check your symptoms or get updates from the BC Government you can download the BC COVID-19 App or visit this website