Sevigny, Acton, Brisebois, Shutt just some of the Montreal Canadiens coming to Nelson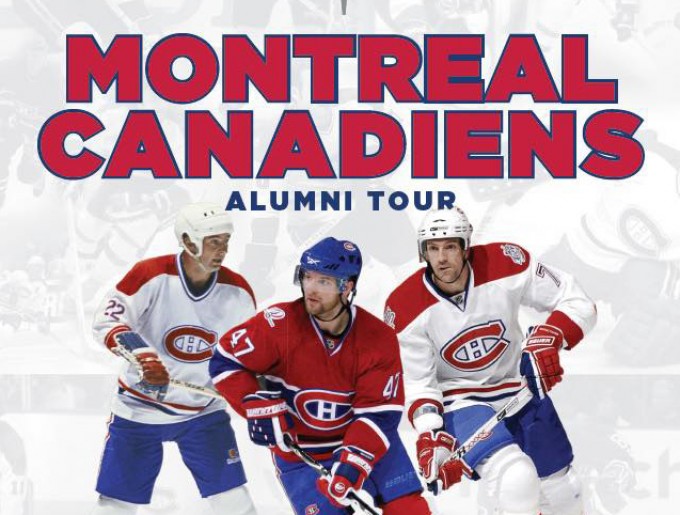 Count'em up — Richard Sevigny, Keith Acton, Patrice Brisebois and coach Steve Shutt are just a few of the former Montreal Canadiens ready to take to the ice at 7 p.m. in the NDCC Arena to play the Kootenay Patricks as part of the Make A Change Canada Charity Hockey Game Thursday, January 23rd.
The players are part of the Canadiens lineup announced for the Charity Game.
Shutt, who was inducted to Hockey Hall of Fame in 1993, joined  linemates Jacques Lemaire and Guy Lafleur he scored 60 goals in the 1976-77s eason and win five Stanley Cups with the Canadiens.
Sevigny played eight years in the NHL with the Canadiens and Quebec Nordiques, winning the Vezina trophy in 1980-81 and a Stanley Cup with Montreal.
Acton played 15 years in the NHL, five with the Montreal Canadiens before winning a Stanley Cup with Edmonton. He finished his career behind the bench as an assistant-coach for Philadelphia, New York and Toronto.
Meanwhile, Brisebois, the recipient of the Jean Béliveau Trophy in 2009, had an 18 year career in the NHL, 16 with the Montreal Canadiens where he patrolled the blueline, winning a Cup in 1993.
Other players on the Canadiens roster include Oleg Petrov, Mathieu Dandenault, Pierre Dagenais, Jesse Belanger, Mike Weaver, Jocelyn Lemieux and Marc Andre Bergeron.
The Canadiens meet the Kootenay Patricks, a local squad consisting of ex-NHLers, NCAA players and local junior grads coached by former NHLer Mike Laughton.
Back in 1967, Laughton was a member of the Oakland Golden Seals who took to the ice against the Canadiens.
The evening is a fundraiser for Make A Change Canada.
Based in Nelson, Make A Change Canada is a national non-profit and charitable organization that provides online employment, self-employment, and skills training to people who face barriers to employment in today's labour market. A pioneer in the field, what distinguishes Make A Change Canada is the one-on-one support it provides through its online programs to those who cannot leave home or wish to work from home.
Clients include people facing all types of challenges from youth and single parents, to those living with a disability or chronic health issue, to those living in rural and remote areas.
Tickets are now on sale and can be purchased online.
Sponsorship packages that enable local businesses and organizations to get involved in the game are also currently available.