Kootenay Lake Ferry communities 'relieved' for labour peace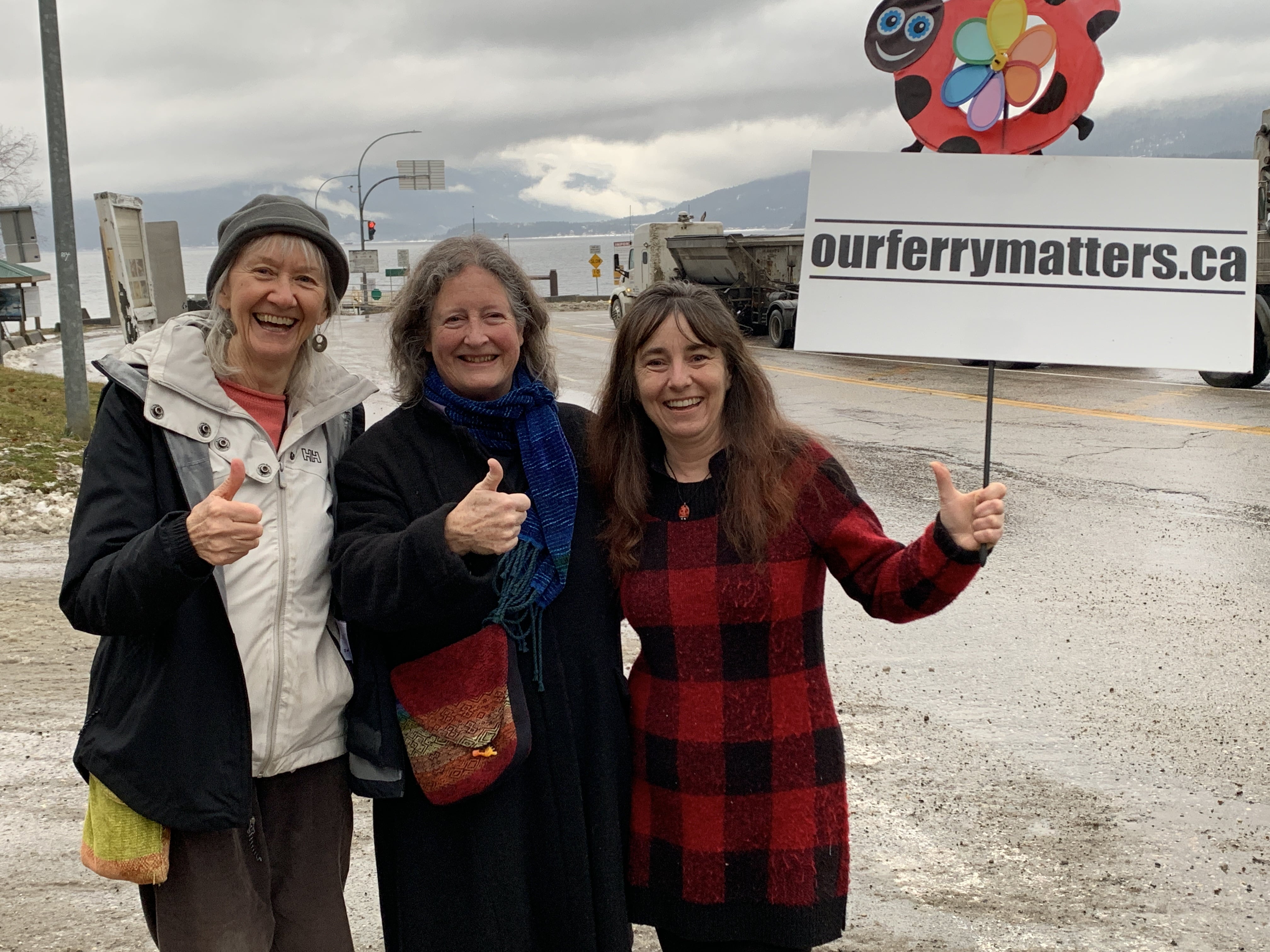 Communities on both sides of Kootenay Lake are once again rolling out the "Welcome Mat" after Western Pacific Marine and BC Government and Service Employees' Union (BCGEU) recently inked a tentative agreement to end the long running labour dispute that crippled the Kootenay Lake Ferry.
Our Ferry Matters, a local grassroots group advocating for safe, reliable and sustainable ferry service on Kootenay Lake during the three-month labour disruption, are excited an official agreement was reached that ended the labour dispute.
BCGEU officials said the membership had ratified the agreement.
"Our members are thrilled and relieved to know that we now have stability for the long-term on this essential transportation route between Balfour and Kootenay Bay," said Megan Rokeby-Thomas, a key organizers in the Our Ferry Matters movement and owner of Ladybug Coffee by the Kootenay Bay ferry terminal. "Thank you to everyone involved."
Rokeby-Thomas said peaceful rallies, called Unity Sailing, brought together people from both sides of the lake to encourage both sides to find common ground to a speedy resolution.
"We thank the community for all its support and efforts to provide a strong neutral voice during this labour dispute," Rokeby-Thomas adds.
The Kootenay Lake ferry runs across Kootenay Lake, 35 kilometres east of Nelson on Highway 3A, between Balfour (west side) and Kootenay Bay (east side), 70 kilometres from Creston on Highway 3A.
Capacity of the M.V. Osprey 2000 is 80 vehicles and 250 passengers. The M.V. Balfour can accommodate 28 vehicles and 150 passengers.
Our Ferry Matters included support from many members of the East Shore community, the Kootenay Lake Chamber of Commerce, the Balfour & District Business & Historic Association as well as Chambers in Creston, Kaslo, Nelson, Castlegar, the International Selkirk Loop, Nelson Kootenay Lake Tourism and many others.
Our Ferry Matters organizers said disruption of ferry service throughout the summer had significant negative effects on local businesses as well as citizens with concerns about essential access to healthcare and education services.
"With this happy news, we can focus our efforts on making sure that everyone knows the ferry is running back on regular schedule," Janet Wallace, treasurer of the KL Chamber of Commerce and owner of Barefoot Handweaving, one of the Artisans of Crawford Bay, said.
"This ferry – the longest free ferry in the world – is a significant attraction for people to the area. We'll be taking steps to make up for the losses incurred because of the uncertainty of the labour dispute this year."
Our Ferry Matters is advocating for the speedy creation of a Kootenay Lake Ferry Advisory Committee as a mechanism for ensuring community input to the ferry operations.
Our Ferry Matters said the Committee is stipulated in the province's past contract with Western Pacific Marine but was not active.