Leafs tame Border Bruins to remain red hot in KIJHL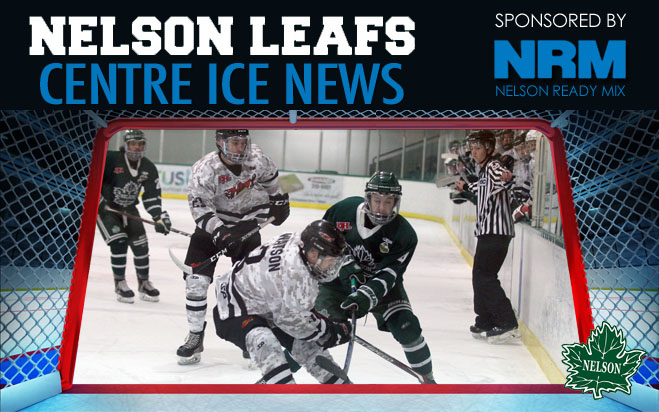 Following a scare the previous night against the Chase Heat, the Nelson Leafs left no margin for error Saturday night at the NDCC Arena.
The Grand Forks Border Bruins felt the wrath of the Leafs during a 10-1 Kootenay International Junior Hockey League shellacking. Shawn Campbell led the attack scoring three time with Reid Wilson and Cole Wyatt each adding a pair.
The win, the 15th in the past 16 games for the Green and White, keeps Nelson on top of the Murdoch Division — four points ahead of the Beaver Valley Nitehawks.
Nelson piled up the scoring on the Bruins in the second period, scoring five unanswered to take a 7-1 lead after 40 minutes.
After Sidney Cruz scored two minutes into the frame to cut the Nelson lead to 2-10, Campbell scored twice before Brady Miller, Wilson on the power play and Adam Diotte added singles. In the third there was no letting the foot of the gas for the home side as Keenan Crossman and Wyatt completed the scoring.
Nelson outshot the Bruins 25-27 in the contest giving Leaf goalie Tenzin Mint and easy night between the pipes.
Friday, it appeared the Leafs were going to gut out a tough win against the Heat when the Doug Birks Division team caught fire, scoring twice in the final three minutes to cut the lead to 4-3.
Anderson Violette was solid for Nelson in goal to backstop the Leafs to the victory.
Jaden Shumilak, Tyler Pisiak, Campbell and Wyatt scored for Nelson. Evan Hughes, and Cam Watson and Hayden Wiebe, the latter two coming late in the third period, replied for Chase.
Nelson outshot the Heat 26-24 in the tightly-played contest. Chase bounced back Saturday to dump Castlegar Rebels 4-1 in the Sunflower City.
ICE CHIPS: Reid Wilson and Cole Wyatt each finished Saturday's game with four points. Joe Davidson, Tyler Pisiak, Lane Goodwin and Logan MacDonald each had two points Saturday. . . .Wilson, who moved into fourth overall in KIJHL scoring with the six-point weekend, extended his point scoring streak to seven games. He has scored in 10 of the last 11 games. . . . Shawn Campbell has scored nine goals in the past seven games. . . . Nelson now heads out onto the road for a five-game road trip beginning Thursday in Fernie against the Ghostriders. . . .Nelson is tied with Kimberley for top spot in the KIJHL, each with 33 points.