Leafs hit Eddie Mountain Speed Bump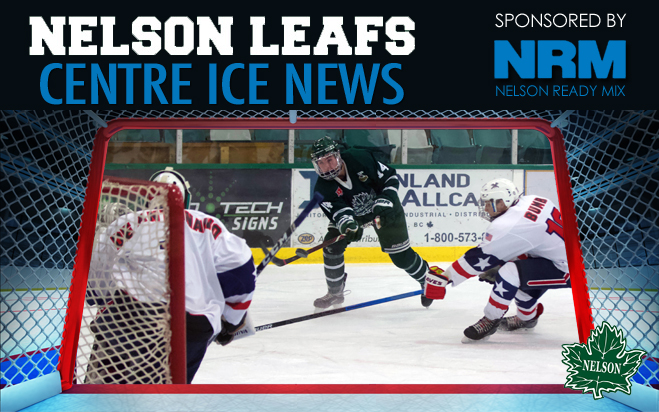 It's a long season, as the Nelson Leafs are realizing.
The Green and White hit another speed bump along the Kootenay International Junior Hockey League road this past weekend after the Heritage City franchise was swept by Eddie Mountain teams.
The latest setback came Saturday night in Golden when the Rockets rallied from a 3-2 third period deficit to edge the Leafs 5-3.
The loss comes after both Fernie and Kimberley defeated Nelson 6-4 and 5-0, respectively.
Despite the three-game losing skid, Nelson maintains top spot in the KIJHL Murdoch Division. The Leafs, 15-6-0-0-3, hold a slim one-point advantage over Beaver Valley Nitehawks.
However, Nelson has played three more games than the Hawks.
Saturday, Nelson appeared poised to pull out a victory when Keenan Crossman scored the go-ahead goal on the power play midway through the third period.
That lead was short lived as Dante Pietrarca tied the game with a power play marker before Bryce Trimmer connected with the winner with just under five minutes remaining in the game.
Liam Morris added an empty net sending the Leafs to the tough road loss.
Jacob Dewar and Jackson Wade also scored for the Rockets, which avenged an earlier loss this season to the Leafs.
Shawn Campbell and Adam Diotte replied for Nelson.
Golden outshot the Leafs 43-38 making Brandon Weare a winner in the Golden nets.
Tenzin Mint was in goal for Nelson.
Friday, in the Bavarian City, the KIJHL leading Dynamiters scored three times on the power play and Blake Pilon was spotless between the pipes leading Kimberley to the convincing 5-0 victory.
Mitch Fargey scored twice and Daniel Anton, Cam Russell and Cam Reid added singles for the Nitros.
Kimberley held period leads of 1-0 and 3-0. The Nitros also outshot the Leafs by a 37-24 margin.
Anderson Violette suffered his second straight loss in goal.
Nelson continues its six-game road trip Saturday in Castlegar when the Leafs face the cellar-dwelling Rebels. Game time is 7 p.m. at the Castlegar & District Rec Centre.
BLUELINES: Nelson has struggled this season against Eddie Mountain Division teams, going 2-5. Two of the losses were in overtime against Fernie and Kimberley. . . . Nelson's leading scorer Reid Wilson was kept off the scoresheet in Kimberley and Golden. Wilson was on an eight-game point streak before Friday's game in Kimberley. . . . Leafs goal scoring leader Shawn Campbell scored Saturday after going two games without a goal. Campbell has points in eight of the past 10 games for Nelson including 10 goals. . . . Next home game for Nelson is December 13 when defending KIJHL Champ Revelstoke Grizzlies pay a visit to the NDCC Arena.