Kootenay Carshare Cooperative goes Electric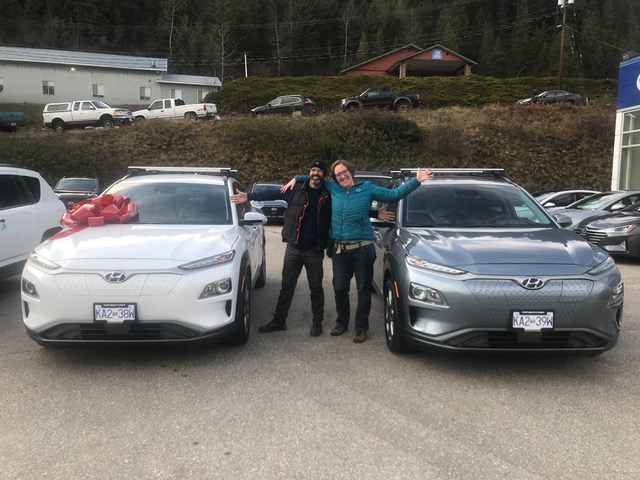 Kootenay Carshare is going Electric.
The local Carshare Cooperative is celebrated the addition of two Hyundai KONAs to the fleet of member owned vehicles, Friday at the Kootenay Co-op in Nelson where members were able to jump in for a sit inside.
KONA is the first electric sub-compact SUV in Canada.
This ground-breaking vehicle combines bold and roomy SUV style with an impressive electric driving range of over 450km. A 201-hp electric motor drives the front wheels and is powered by a 64.0-kWh battery pack. It can go from zero to 60 in 6.4 seconds. Aggressive regenerative braking allows for true one-pedal driving and helps extend the driving range. Pulling the paddles behind the steering wheel allow the driver to adjust the level of regeneration. Smooth, quiet with so much power, it is so fun to drive.
Kootenay Carshare Cooperative is very grateful to Community Futures and the Nelson & District Credit Union, who made it possible to bring these vehicles to our community through supportive financing.
The new zero emission vehicles are available to use by the hour through the Coop's Casual or Full membership options. December usage is half price at just $5/hour and $0.05/km. 
"Range anxiety is one of the major deterrents to purchasing electric, however, infrastructure and route planning apps are improving all the time," said a KCC spokesperson.
"We want people to experience the possibility of going 100% electric and emission free".  
KCC has been operating since 2001 but this year it has seen a boom in membership, especially in Nelson.  With 14 vehicles in Nelson alone, members are well served by two trucks, a seven-passenger van, a wheelchair assisted van, two mid-sized vehicle and several economy cars. 
Vehicles are parked in all neighborhoods for easy walk access.
It is a great alternative to purchase a second vehicle or a truck for those less frequent trips. KCC also operates in Kaslo, Revelstoke and Rossland.  Members enjoy the flexibility to access any vehicle in any location including the Tesla Model 3 in Revelstoke.
Business and Individual membership application fees will also be FREE for the month of December. 
This is a great opportunity to sign up with no cost or commitment and try the new EV now.