Question: Most important issue facing voters in Kootenay Columbia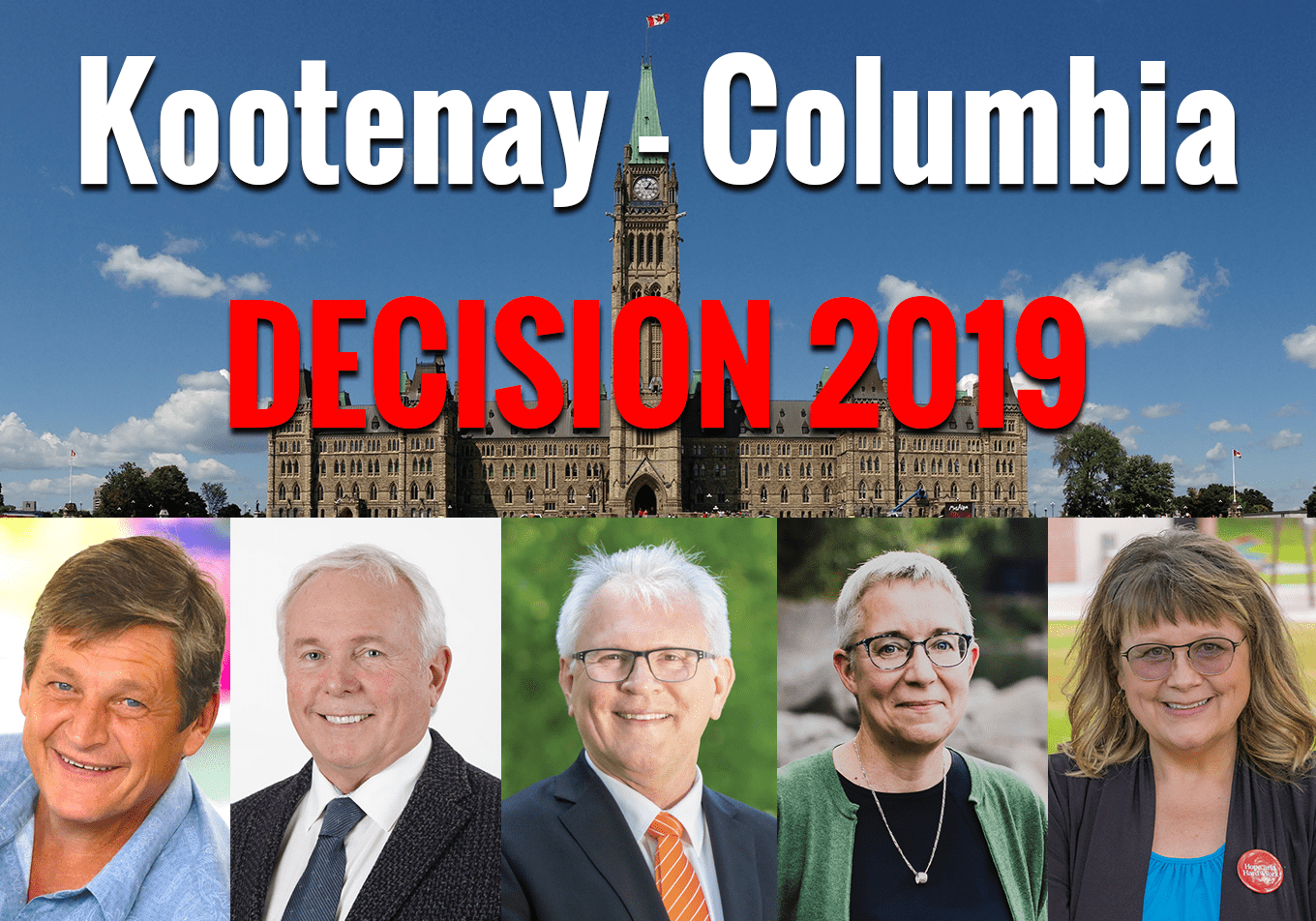 As the race for Kootenay Columbia seat in the House of Commons for heats up, The Nelson Daily will poll the candidates with a Question of the Week.
The five candidates — Abra Brynne of the Green Party, Liberal candidate Robin Goldsbury, incumbent Wayne Stetski of the NDP, Rob Morrison of the Conservative Party and Rick Stewart of the People's Party of Canada — have been criss-crossing the riding looking for votes in the upcoming Federal Election, set for Monday, October 21, 2019.
First Question: What do you feel is the most important issue facing voters in Kootenay Columbia?
Robin Goldsbury — Liberal Party
Sustaining Kootenay Vitality and the Columbia River Treaty 
Solutions to big city problems often don't work in our riding. But 'rural is relevant'.  Our Kootenay life needs a bold champion, be it housing, mental health, transportation, transitioning resource industries, access to services, staffing and succession… We need someone willing to go beyond, who has worked in those trenches. Party politics aside, Robin will stand up for a sustainable, vital Kootenay-Columbia. 
That said, the Columbia River Treaty re-negotiation is an essential federal issue unique to us. The American water lobby is powerful, organized and strong.  They want to eliminate our Canadian entitlement yet retain existing water control.  The impact on our Kootenay vitality – our ecology, sustainable farming, tourism, recreation, forestry and fisheries – continues to be massive. 
Abra Brynne — Green Party
The climate emergency affects our communities right here in Columbia-Kootenay. We feel the impacts of forest fires and flooding, and our children expect us to take action.
We know what to do—the human and technological resources are there — but Canada needs the political courage of the Green Party to see it happen. We can work to secure a healthy environmental future without negatively impacting the economy: renewable energy sector jobs are up 37% and rising.
As we make the shift to green infrastructure, the demand for skilled workers will mean new opportunities for workers in the fossil fuel industry. The climate crisis we face may seem daunting, but collectively we have the knowledge and expertise to take it on while we grow a sustainable future for all of us.
Wayne Stetski — NDP
This election is about putting people first, and electing a representative who works for you – not the rich and powerful.
Our plan addresses the big issues facing voters here in Kootenay Columbia, as well as our country; taking bold action to fight climate change, investing in a universal pharmacare plan, and making housing more affordable.
Rick Stewart — People's Party of Canada
I believe the most important issues facing the constituents are the protection of our national sovereignty and personal freedoms. I also believe that the creation of a common sense revolution will pave the road to prosperity for the residents of the Kootenay/Columbia. 
Rob Morrison — Conservative Party
Most important issues are:
Jobs (keeping Kootenay-Columbians employed and working to get Kootenay-Columbians back to work)
lumber mills back to work
securing coal jobs for miners who are facing pressure from our current government and representation
getting energy sector employees back to work.
Environment
We need to use science to guide us towards a clean energy future. We will be required to pay for this transition and to do that we will need to bring Canadian and international investors back into Canada who will provide the necessary tax revenues.
Specifically, we need to get Canada's energy sector back on its feet so that we can use that industry's tax revenues, and its work force, in the effort to contribute to the rollout of our environment plans.