Glacier gymnasts shine on Provincial Stage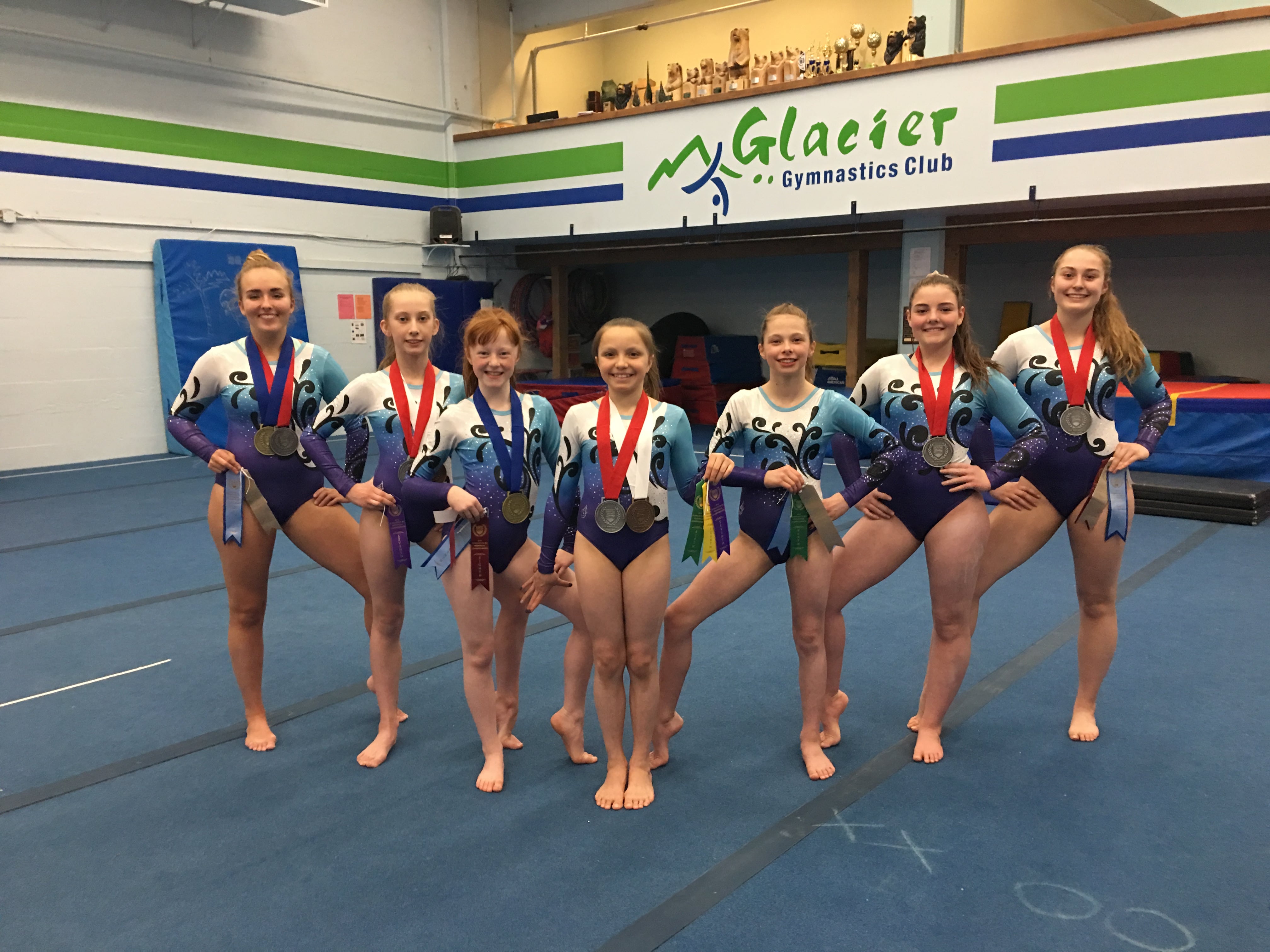 It was a banner weekend for eight gymnasts from Nelson's Glacier Gymnastics Club at the 2019 BC Provincial Championships this past weekend on the Lower Mainland.
The Glacier gymnasts returned from the trek west with 12 medals, including a pair of All Around titles as well as 20 top-ten placement ribbons.     
"We are very proud of all the gymnasts who participated," said Glacier coach Sandra Long, who along with the rest of the coaching team is overwhelmed by the success of its gymnasts this season. "Everyone came home with a top-eight or higher all-around finish this Provincials, that is a huge accomplishment."
Leading the Level 6 Team was Anouk Prud'homme claiming the 11 to 12- year-old age group all-around bronze medal. She also won silver on floor. In the same age group Asia Szczepanski took the gold medal on floor and 7th all-around.
In the 10 to 11- year-old age group, Macy Loutit captured 5th on bars and 8th all-around.
Veteran competitor Elisa Clark won the gold medal on beam, silver on floor and 4th all-around in the 14 & up age group. Followed by first-time Provincials competitor Tia Berens who won the silver on beam and 6th all-around in the same age group.
Junior Olympic Level 7 gymnast, Eden Bellman claimed the all-around silver in the 12 to 13 year-old age group. She also won bronze on beam and floor.
In her first year competing as a Level 8, Dafni van Hellemond claimed silver on floor and 5th all-around in the 13 to 14 year-old category. In the same category, Brianne Stefani won gold on floor and then could not continue due to an injury
The Glacier Team will now focus on preparing for the Kootenay Zone Championships, which the club is hosting May 4-5.
Junior Olympic Level 6
10-11 years: Macy Loutit – 5th on Bars, 8th All-around, 9th on Floor, 10th of Vault
11-12 years: Anouk Prud'homme – Bronze All-Around, Silver on Floor, 4th on Beam, 5th on Vault, 7th on Bars; Asia Szczepanski – Gold on Floor, 7th All-Around, 8th on Vault and Beam
14 & up: Elisa Clark – Gold on Beam, Silver on Floor, 4th All-Around, 9th on Bars; Tia Berens – Silver on Beam, 5th on Floor, 6th All-Around, 7th on Bars
Junior Olympic Level 7
12-13 years: Eden Bellman – Silver All-Around, Bronze on Beam and Floor, 7th on Bars
Junior Olympic Level 8
13-14 years: Dafni van Hellemond – Silver on Floor, 5th All Around and on Vault, 8th on Bars, 9th on Beam; Brianne Stefani – Gold on Floor