Whitecaps Regional Academy offers up post-secondary playing opportunities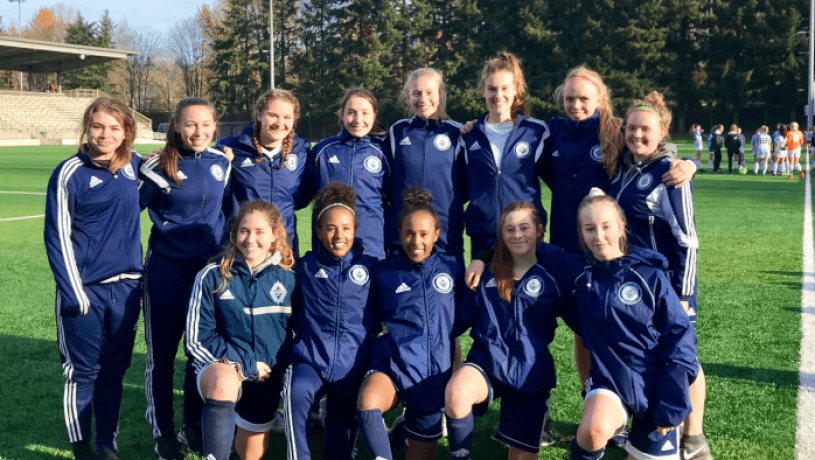 When Whitecaps FC began opening Regional Academy Centres, the club made a commitment to give local players opportunities to have high level coaching, develop their game, and see a pathway towards levels of success that they may not have previously considered.
Part of that commitment has come in the form of a recent 'Caps to Collegeprogram at select centres. The selection-based system is designed for players from U-15 to U-18 who are looking for the best opportunity to play in college, university, and beyond. Each targeted Academy Centre's coaching staff work in collaboration with the club's manager of collegiate transition, Ryan Clark, on executing a post-secondary strategy that develops on and off-field qualities sought by collegiate scouts.
As part of this program, players are given opportunities to be showcased at special events. In late November, the Whitecaps FC Kootenay U-18 and U-16 girls crossed the border to take part in the 2018 AstroTurf Collegiate Showcase at Starfire Sports Complex in Tukwila, Washington.
Joining the teams were four players from the Prince George-based Whitecaps FC Northern Academy: Sophie Jensen, Angeline Lewington, Arianna Payne, and Makena Maki.
"This program really shows how seriously the club is taking their focus towards improving the level in these smaller regions, and giving them the opportunity to shine and be showcased," noted Brett Adams, Whitecaps FC Academy Centre associate head coach. "The girls had a fantastic weekend, with lots of attention from college and university scouts."
On the pitch, the U-18 girls finished undefeated with three wins and one draw to finish atop the tournament. The U-16 squad – made up of younger U-15 and U-14 players – played to three draws and one defeat.
"The way the girls played was fantastic," added Adams. "It was great soccer and exciting to watch."
The push for the college pathway has already paid dividends recently, with no less than 16 players moving on to post-secondary soccer.
Sophie Borhi (Louisiana State University of Alexandria)
Julia Burkart (Thompson Rivers University)
Nicole Byford (University of Lethbridge)
Zak Campbell (West Liberty University)
Jack Crook (University of Lethbridge)
Anna Erikson (Saint Mary's University)
Paige Gattafoni (University of Lethbridge)
Kru Huska (Ambrose University)
Maya Ida (University of Calgary)
Jack MacSteven (University of Lethbridge)
Shianna Michalchuk (Thompson Rivers University)
Tyler Peters (Red Deer College)
Hanna Quinn (University of Lethbridge)
Aletha Riemer (King's University)
Keeghan Tingley (Red Deer College)
Taylor Zimmer (Southern Alberta Institute of Technology)
"We're really keen to build on a successful start to this program," summed up Adams. "Hopefully we can provide more and more opportunities to players in each of these regions."
— Story courtesy Vancouver Whitecaps FC