Op/Ed: Keeping people safe, and protecting our communities through the wildfires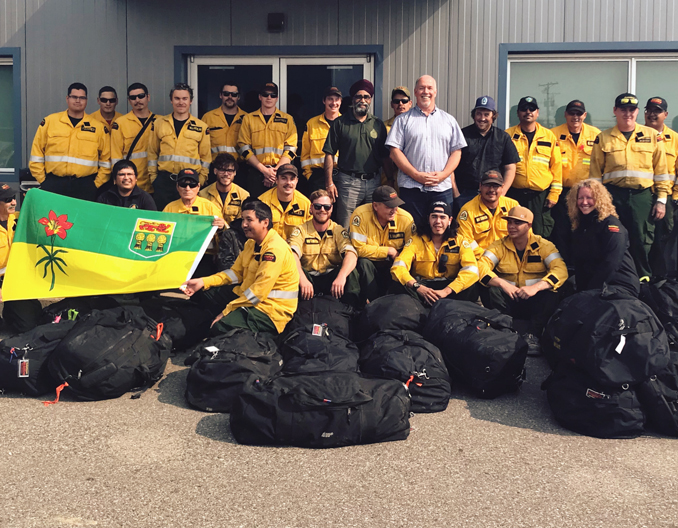 By John Horgan
For the second year in a row, our province is in a state of emergency.
People, business and communities in every part of B.C. have been affected, and many remain under evacuation alerts and orders as over 550 wildfires continue to burn. Our government is doing everything we can to support firefighters and emergency responders and keep people and communities as safe as possible.
We're working together with all levels of government, Indigenous and non-indigenous communities, to make sure we're delivering a coordinated and effective response.
This week, I travelled to Prince George with Minister of National Defence Harjit Sajjan. We met with people on the frontlines fighting the forest fires across the province. I had the opportunity to thank our first responders and meet a crew of firefighters who flew in from Saskatchewan to help.
I'm profoundly proud of the work that's being done. But the challenges are significant. We are dealing with natural disasters on an unprecedented scale. In the last 13 months we moved from fighting wildfires to tackling floods to fighting wildfires again. For B.C., this situation is historically extremely rare, but it could be the new normal. And we need to be better prepared to prevent and mitigate disaster.
We're working hard to adapt our response. That includes initiating action on many of the recommendations of a report our government commissioned following last year's wildfires, with a full action plan to come this fall. We're going keep working hard to make sure we keep up with the challenges of a rapidly changing climate, so we can protect our communities.
This year, we've stepped up efforts to help people make properties and communities more resistant to fire, cleaned up hazardous debris, and put additional firefighters on standby.
For the first time, we have Indigenous liaisons in the Emergency Operations Centres working in close contact with communities. We are learning from this new program, and we will continue to make improvements as we work to make sure First Nations are receiving support in the ways that they need.
Ministry of Agriculture staff are on the ground in a number of Emergency Operations Centres across B.C. to support agricultural producers. They're working closely with the BC Cattlemen's Association and other groups to monitor the situation in communities across B.C., and to provide assistance with any livestock relocations.
We're asking that people follow the guidance of the professionals at B.C. Wildfire Service and Emergency Management B.C. so they do not put their own lives, the lives of other residents, or the lives of the firefighters at risk.
I know people in B.C. and across Canada are concerned about the wildfire situation in our province. A donation to the Red Cross is a good way to help those who have been affected.
The province is matching people's contributions up to $20 million, so your donation will go even further.
As the wildfire season continues, we all need to do what we can to support people and communities fighting wildfires. Our government is taking steps to help. And I know we will get through this together.
***
For up-to-date information on current wildfire activity, burning restrictions, road closures and air quality advisories, visit: www.bcwildfire.ca
For information on evacuation orders and alerts, stay tuned to your local authority's public information channels and Emergency Info BC: https://www.emergencyinfobc.gov.bc.ca/
You can follow the latest wildfire news: