Ferry users eagerly await Harrop II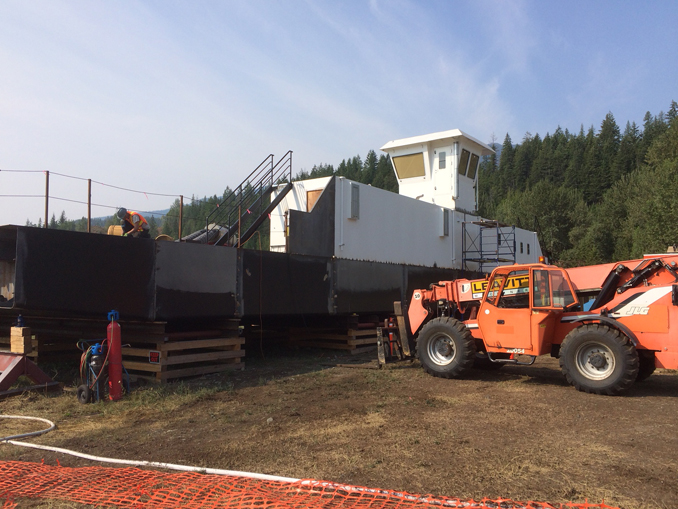 Earlier this year it was the community of Glade getting a new cable ferry to replace its aging vessel.
In the fall it's the area of Harrop/Procter that will see a new cable ferry carry more cars, trucks and commercial vehicles across the West Arm of Kootenay Lake as part of the provincial government's Cable Ferry Replacement Project.
"The existing Harrop cable ferry is being replaced as part of the overall Cable Ferry Replacement Project," said a Ministry of Transportation and Infrastructure spokesperson said. "This project is underway because the existing vessels are at the end of their service lives, and need to be replaced."
The currenty Harrop ferry runs across Kootenay River, on Highway 3A, 24.5 kilometres northeast of Nelson and eight kilometres west of Balfour to the communities of Harrop and Procter (on the south bank). Ferry capacity is 18 vehicles and 49 passengers.
The new vessel, Harrop II, is currently being built in Kaslo, and is the third of four sister ships.
"The new ferries will be larger and able to carry more vehicles than the existing ferries, with increased capacity to handle commercial vehicles at full highway loads," said the MOTI spokesperson.
Waterbridge Steel of Nakusp won the $27.9-million contract to design and built the four new new cable ferries for the Province's inland ferry fleet. All new vessels are scheduled to be in service by the end of 2019. The project is generating employment for approximately 30 people over four years, with the majority of work taking place in Nakusp.
The Ministry said in addition to the new ferry for Harrop and Glade, other cable ferries are being constructed to replace aging vessels serving the community of Arrow Park, on Arrow Lake. A new cable ferry to serve Adams Lake went into service in spring 2017.
While the ferries are docked during off-peak hours, power will be supplied by on-board batteries. This will reduce noise at the terminal and lower the vessels' greenhouse gas emissions.
There are 14 inland-ferry routes in B.C. that are operated for the Province of B.C. under contract. Five of the routes are served by cable ferries, five are reaction ferries (propelled by river current), three use free-running ferries and one is served by a tug and barge.
Last fiscal year, the province's inland ferries carried approximately 1.5 million vehicles and almost 2.4 million passengers. Harrop II will be ready in the fall and will enter service once all crew members have been fully trained and familiarized.